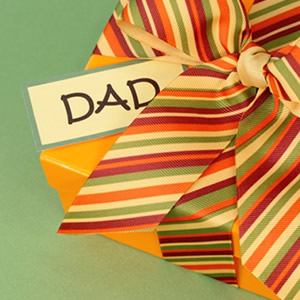 Stumped about what to get Dad this Father's Day? Look to his horoscope sign for clues about what he would really like. After all, how many ties does a guy really need? Besides, he'd probably prefer something he could use on casual Friday … that is, unless he's a business-like Capricorn.
Take your dad's horoscope sign with you when you're shopping for Father's Day gifts this year:
Aries Dad (March 21 - April 19)
This dad likes to put his personal stamp on everything, so why not get him a personalized branding iron for the grill? This gift is doubly appropriate, since Aries is a fire sign that enjoys cooking over an open fire. Since Aries was the god of war, this sign is associated with steel. A mini toolkit might be perfect for this father, as he probably uses tinkering as a form of therapy. The ram is also an active sign that likes to burn off excess energy through sports. A tennis racket, paintball gun or punching bag might be just the thing for this energetic dad.
Taurus Dad (April 20 - May 20)
This father wants a gift that will encourage him to relax and enjoy life. A set of ergonomic gardening tools might be just the thing. Taurus loves the great outdoors, and likes to forget his troubles by digging in the earth. Male bulls also have an appreciation for good food. A few Omaha Steaks would be a wonderful treat for this gourmand dad. If he's a vegetarian, a sumptuous fruit-and-cheese basket makes a delicious substitute. Last but not least, Taurus always appreciates a good massage. A gift certificate to a local spa will help him relax and unwind after a hard day's work.
Gemini Dad (May 21 - June 20)
The Gemini Dad is an unabashed gadget-lover. A subscription to 'Wired' magazine will keep him abreast of the latest innovations in computers, televisions and hand-held devices. This sign is always on the go, so a wireless weather forecaster may be a welcome gift. He'll never need to run back in the house for a jacket thanks to this thoughtful present. For the ultimate gift, why not give this father a Blackberry? It may be the only way he can keep up with the hundreds of messages that jam his in-box each day.
Cancer Dad (June 21 - July 22)
This dad is a loving and nurturing parent who thinks the world of his kids. What could be more perfect for this guy than a camouflage diaper bag? Cancer is notoriously grumpy when waking up. A sunrise alarm clock that gradually gets brighter and brighter as wake-up time approaches could be a gift for the whole family. A genealogy software kit could also find favor with this sentimental dad. Cancers love knowing where they came from … it gives them a better sense of where they are going!
Leo Dad (July 23 - August 22)
The Leo Dad is really a big kid at heart. A Texas Hold 'Em video game could keep his playful spirit alive all year. Lions feel best when they're exercising on a regular basis. A monogrammed gym bag will keep him motivated to maintain his workout program. Finally, this father is infamous for his vanity. Why not celebrate this self-obsession with a fog-free shower mirror? The whole family knows that it's pointless trying to get him out of the bathroom anyway.
Virgo Dad (August 23 - September 22)
The Virgo father is a thoughtful guy who likes keeping his intellect honed to a diamond-like brilliance. Perhaps giving him a handheld Sudoku game will prevent this dad from playing mind games on the family! This dad also likes simple creature comforts. A Turkish bathrobe is an indulgence he'll truly appreciate, since he would never buy it for himself. Finally, everybody knows that Virgo is something of a health fanatic. An ionic air purifier could be just what the doctor ordered for this sign on Father's Day.

Get dad a copy of his Birth Chart and Report from Tarot.com!