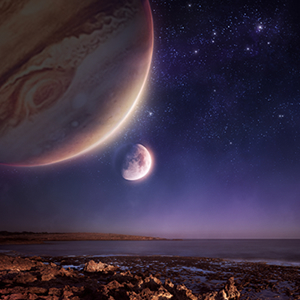 Jolly Jupiter goes direct on April 8, 2015, and we're in luck!
The planet of luck and higher mind, philosophy and beliefs, Jupiter has been retrograde since November, during which time we've been turned inward. We've been looking within ourselves for answers instead of seeking them in the material world, but all that will change when Jupiter goes direct.
Jupiter in forward-motion promotes activity and going out into the world, so after this fourth-month period of introspection and transformation we'll now put what we've discovered about ourselves into motion and actively change our lives for the better.
Anything we start during this time is likely to bring success, whether it's a new friendship, relationship or job, so get out there and take advantage of this potent time!
Jupiter is currently in Gemini, which is an easy and enjoyable transit. This will become more apparent as Jupiter begins moving forward again and we see a rise in the pleasure factor of our lives.
Jupiter moving forward in Cancer promises to bring lots of good luck, especially when it comes to home and family matters. It's about opening our minds and seeing more happy options for the future!

FInd out how Jupiter will bring you luck with a Jupiter's Promises report from Tarot.com.