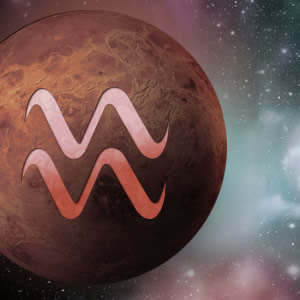 Venus, the planet of pleasure and relationships, loves the wide open spaces of Aquarius. Venus will visit this breezy sign from December 7, 2016 - January 3, 2017, when the boundaries between friendship and romance will be broken and intimacy takes on a lighter form.
Aquarius, in spite of its watery name, is an Air sign related to objectivity and the mind. The relative detachment of the intellect gives Venus room to move that love is less sticky and partnership less confining.
We now have a greater opportunity to free ourselves from rigid relationship patterns. Aquarius is about exploring idealistic possibilities, rather than sticking to the old rules. Venus' presence here can help us drop outmoded structures and appreciate others in a new light. Lovers will benefit from fresh surroundings and experimental approaches to intimacy. Weirdos and eccentrics may become more lovable.
The art and beauty side of Venus sparks an interest in looks that are modern and original. Appreciation for the strange and unusual should make this a period of stylistic experimentation. Attraction to high-tech gadgets is another feature of this combination.
Sentimentality is not a quality generally associated with Aquarius. The planet of love's visit here, then, is a time when romance is built more on ideas than pure emotion. If you like the warm and squishy stuff you might find others a bit standoffish now. However, the Aquarian approach is less possessive and can bring a needed breath of reason and fresh air to partnerships.
Originality, open-mindedness and social concerns are common traits of Venus in Aquarius people such as Muhammad Ali, Steven Hawking, Oprah Winfrey, Ralph Nader, and Yoko Ono. The comic side of this combination shines through the work of Ellen Degeneres and Jerry Lewis.
Music plays an essential part for Venus in Aquarius natives Natalie Cole, Elton John, Roger Daltry, Janis Joplin, Aretha Franklin, and Carole King. Actors Freddie Prinze Jr., Nicolas Cage, Mel Gibson, Glenn Close, Mary Tyler Moore, William Shatner, Leonard Nimoy, Bruce Willis and Gene Hackman also belong to this group.