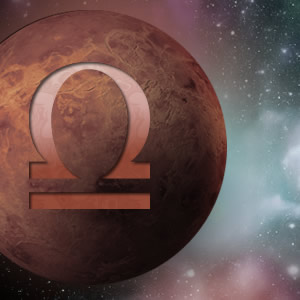 Amorous Venus, the planet of love and pleasure, comes home to Libra on August 29, 2016. This is a naturally compatible combination as Venus is the ruling or key planet of this horoscope sign. Dialogue, negotiation and relationships are highly valued now.
Venus in Libra generally promotes the arts and appreciates beauty. Politeness counts more and sensitivity to the balance in partnerships is heightened. This is a time when we can become more aware of the give and take that are natural elements of relationships.
An increased desire to find agreement readily leads to compromise at this time. It's vital, though, that you consider what you really want before sacrificing it for peace. Harmony is desirable, but not if you must sacrifice your real needs and desires for it. The appearance of peace can be costly if it masks inner disappointment.
Romantic love grows in importance, too. Being in love with love can be such a delicious feeling. This, of course, opens the door to illusion and projecting too much importance upon others. Just be fair to yourself in the process. Don't sell yourself short in your desire to gain the approval of another person. Fairness includes an honest assessment and appreciation of your own gifts. Intimacy grows in an atmosphere of mutual interest and respect.
Lovely Venus in her home sign is found in the chart of beauties Claudia Schiffer and Princess Grace, as well as the unclassifiable Fabio. Royalty is well represented here with Prince Charles and King Hussein, along with the aforementioned Princess Grace.
In spite of its "nice guy/nice girl" image, Venus in Libra is found in the charts of a number of well-known wild ones. There's Charlie Sheen, Lisa Bonet, Sean Young and MacKenzie Phillips just to get things started. There's naughty, but presidential Bill Clinton, ex-bad boy rock pioneer Chuck Berry, Kiss tongue-meister Gene Simmons and the late and large drag queen Divine. Then it gets scary with Stephen King, pornographic with Althea Flynt and Ilona Staller, demogogic with Ferdinand Marcos and, finally, murderous with Manson girl Leslie Van Houton.
Libra likes marriage, they say. Just ask Mickey Rooney. Of course, Venus in Libra has its heroes, too. There are charmers like Michael Douglas and Christopher Reeve, tough guys like Charles Bronson and arms-bearing Old Testamenters like Charleton Heston. At least Venus in Libra has Connie Chung to report the news and sci-fi giant Ursula Le Guin to create new worlds when this one loses its charm.
See how Venus in Libra will influence your love life with a Love Tarot reading from Tarot.com!