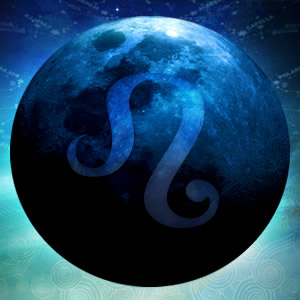 The New Moon in Leo is always a boost to creativity. However, sometimes we come up with concepts that may be brilliant, but we lack the follow-through to make them real.
The New Moon in Leo on August 17, 2012 is different, though, because active Mars and committed Saturn form favorable 60-degree sextiles to this Sun-Moon conjunction. Connection with the right partners and plenty of patience and persistence could make dreams come true.
See how the New Moon in Leo will affect your horoscope sign:
Aries (March 21 - April 19)
Your personal life gets a major boost with this expressive Leo New Moon in your 5th House of Romance and Creativity. Normally, you might be so charged up that you come on too strong and rub others the wrong way. But your maturity, restraint and sense of purpose are guided by a pair of favorable aspects from sassy Mars and reliable Saturn in gracious Libra that strengthen personal and professional relationships.
Taurus (April 20 - May 20)
This glorious Leo New Moon lands in your domestic 4th House of Home and Family, which can encourage you to beautify your home, initiate creative activities with family members or find inner inspiration to express yourself more boldly. Favorable connections to this lunation from productive planets in your 6th House of Work shore up professional alliances and help you to establish new kinds of business relationships.
Gemini (May 21 - June 20)
Your usual production of bright ideas is about to increase. That's because this creative Leo New Moon occurs in your 3rd House of Information and Communication, where it inspires your mind as invites stimulating connections with others. Being able to turn them into reality is likely now since the productive pair of Mars and Saturn form favorable contacts to this expressive Sun-Moon conjunction.
Cancer (June 21 - July 22)
This creative Leo New Moon brightens up your 2nd House of Self-Worth, where it will probably inspire moneymaking ideas. It takes some pushiness on your part to increase your income, so don't be shy about standing up and fighting for your financial future. Investing in tools or training that maximizes your talents is another way to raise your prestige and enhance your professional future.
Leo (July 23 - Aug. 22)
This New Moon in your expressive sign is an especially powerful event. The jolt of energy that enriches your personal life can be obvious. But what makes this lunation so special is that you will have the follow-through and discipline to make its influence last. Seeking the counsel of experienced individuals will earn their support and ensure that your aspirations are rooted in a solid plan.
Virgo (Aug. 23 - Sept. 22)
The encouraging Leo New Moon occurs in your 12th House of Spirituality and Higher Consciousness. This is likely to inspire new aspirations and give you the support you need to believe that you can fulfill them. Assistance comes from unexpected sources when you open your heart and let love and creativity guide your actions. Dreaming about a more rewarding life is the first step to making it happen.
Libra (Sept. 23 - Oct. 22)
Friends and groups are keys to maximizing personal and professional returns with this expressive Leo New Moon in your 11th House of Teamwork. You may play a leadership role in a project that's close to your heart. The enthusiasm you share with others can be almost inexhaustible when you take good care of yourself. Discipline, consistency and commitment lead you to higher levels of achievement.
Scorpio (Oct. 23 - Nov. 21)
Making a splash in your career or other areas of public recognition is possible with this powerful New Moon in your 10th House of Responsibility. Yet making this magic happen requires a high degree of diplomacy on your part. Delicate behind-the-scenes negotiations smooth out rough spots in private so that you can appear as a generous, confident and creative source of inspiration to others.
Sagittarius (Nov. 22 - Dec. 21)
The expressive Leo New Moon in your visionary 9th House highlights travel, education and belief systems. Broadening your horizons and expanding your mind is motivated by a sense of adventure. If your heart is in what you're doing, you will find the commitment needed to take it all the way. Skillfully managing relationships with your allies frees you to boldly go where you've never been before.
Capricorn (Dec. 22 - Jan. 19)
You can make breakthroughs in challenging personal or working relationships with this energizing Leo New Moon in your 8th House of Intimacy. You will probably attract more generous partners, but it's even more important for you to be openhearted and trusting with them. The more you give, the more you will get back in return, so don't let petty matters slow down a growing partnership.
Aquarius (Jan. 20 - Feb. 18)
This expressive Leo New Moon lands in your 7th House of Partnerships, where it puts more fire into your connections with others. Strong-willed, expressive and outgoing individuals can push you to be more engaged in your relationships. Matching their energy with your own ensures that competition doesn't get in the way of cooperation, which produces amazingly creative and joyous results.
Pisces (Feb. 19 - March 20)
Fresh enthusiasm for your work and a newfound sense of delight in your daily life are potential gifts of this New Moon. It occurs in expressive Leo and your 6th House of Service and Daily Routines to empower you when you're on the job. Finding ways to turn tedious tasks into play not only lightens your heart and makes you more productive, but can dramatically increase your creativity.

Start this new cycle with insight! Get a Life Cycle Tarot Reading from Tarot.com.