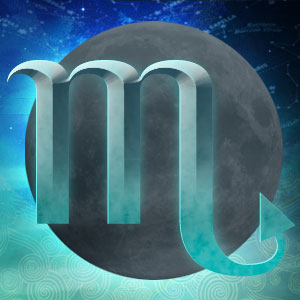 Emotions are intense with the New Moon in Scorpio on Wednesday, Oct. 26. This passionate sign takes us to the depths of desire and sometimes of despair. But recognizing what we're missing can provide the motivation required to make the changes that can fulfill these needs.
Scorpio is excellent for revealing hidden or underexploited resources that can then be used in more productive ways, and to eliminate waste to concentrate our efforts where on higher priorities. See how October's intense New Moon in Scorpio will affect your sign:
Aries (March 21 - April 19)
The potent New Moon in your 8th House of Deep Sharing can push relationships to the limits. If you're dissatisfied in a personal or professional alliance, that discontent may bubble up to the surface. You hate being controlled by others, and the sticky and manipulative ones may be even less comfortable than usual, but the right allies can help to increase your pleasure and your power.
Taurus (April 20 - May 20)
This New Moon falls in your 7th House of Partners to push relationship issues into the foreground. An overly demanding ally can become unbearable while a cool and distant one may be equally dissatisfying. Speaking up about your needs and renegotiating your key connections takes a willingness to be honest about your own desires and clear enough to make them known to others.
Gemini (May 21 - June 20)
A higher level of intensity may be necessary at your job or in learning a new skill. Concentration is essential to clean up a messy situation and to earn the respect you want for your work. It's better to cut loose an activity or let go of tasks than can never fulfill your needs. Letting go can be scary, but it makes mental, physical and emotional room to invest more fully in something new.
Cancer (June 21 - July 22)
This passionate New Moon lands in your 5th House of Romance, Play and Children, initiating opportunities for fresh experiences in these areas. Coming on stronger in pursuit of love certainly makes sense, but this lunation can also trigger creative activities and different forms of pleasure. In any case, directing your powerful emotions effectively can turn pain into gain.
Leo (July 23 - Aug. 22)
Home and family issues may be stirred up with this intense New Moon in your 4th House of Domestic Life. Remodeling your living space is one way this can be expressed, yet digging up and addressing concerns from your childhood is also possible. Facing old fears is never fun and shouldn't be done in public. But dealing with difficult feelings in private can release their hold and free up energy for the future.
Virgo (Aug. 23 - Sept. 22)
Intense conversations can be aroused with this potent New Moon in your 3rd House of Communication. Confidentiality must be respected to maintain trust in relationships. Your analytical mind may get hold of a subject that fascinates you and encourages deep study and research. Your perceptions will reveal cracks in others' stories but point them out in public will not be well received.
Get more insight about what's coming up with a 30-Day Astrology Forecast Report from Tarot.com!