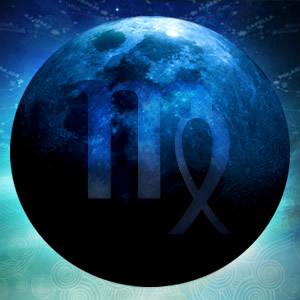 The New Moon in Virgo on September 15, 2012 plants seeds of competence that will grow into skills when nurtured with persistence and practice.
Brainy Mercury, Virgo's ruling planet, is joined with the Sun and Moon, sharpening perceptions and clarifying thoughts. This lunation in a pragmatic Earth sign filters out useless ideas so we can focus our attention on the ones that have practical purposes in our lives.
See how the New Moon in Virgo will affect your sign:
Aries (March 21 - April 19)
Put your mind on work and health with this New Moon in your 6th House of Daily Routines. Improving your skills or developing new ones is a great way to energize your career. But taking care of your body with proper diet and exercise will go a long way to give you more strength and flexibility. Just don't be in a hurry, as consistent small steps will take you further than an occasional giant leap.
Taurus (April 20 - May 20)
The competent Virgo New Moon in your 5th House of Romance triggers a fresh approach to matters of the heart. Being more careful in how you express your feelings and refining your creative abilities are other ways to make yourself more appealing. If you're an artist of any kind, this lunation should give you a boost when you upgrade your abilities and put in extra effort to refine your craft.
Gemini (May 21 - June 20)
Cleaning up matters on the home front is the message of this efficient New Moon in your domestic 4th House. Making repairs and upgrading furnishings or equipment is worth the effort now. Your ability to analyze and understand family patterns also benefits from this lunation. Being conscious of where old emotional habits hold you back is the first step toward making a serious effort to change them.
Cancer (June 21 - July 22)
This clear-headed Virgo New Moon falls in your 3rd House of Communication and Learning. Recognizing when messages are muddled shows you when and where you need to express yourself more precisely. A sharper mind helps you pay attention to details that normally escape your attention. Studying a practical subject can rapidly upgrade your knowledge and increase your competence.
Leo (July 23 - Aug. 22)
This super skillful New Moon lands in your 2nd House of Resources, inspiring you to put in the time, money and energy needed to make you more valuable. Specializing in a particular area could increase your income and will certainly raise your self-confidence. This lunation isn't about promises, but about buckling down and committing yourself to work on areas where you're not at your best
Virgo (Aug. 23 - Sept. 22)
This New Moon in your sign is a fresh start. Take a good look at yourself and recognize where you can improve your appearance, attitude and health. It's important, though, to acknowledge how much progress you've already made since it's easier to build on a history of success than one of failure. Upgrading your image is bound to make your more desirable to others personally and professionally.
Libra (Sept. 23 - Oct. 22)
Spiritual practices and aiding others are favored by this New Moon in your 12th House of Faith and Service. Getting away from the pressures of your daily routine provides the distance you need to see yourself in a different light. When you're part of a community with a higher sense of purpose you get a sense of well-being and belonging that's greater than pursuing your individual interests.
Scorpio (Oct. 23 - Nov. 21)
Friends and organizations are places give you opportunities to make a splash with the efficient New Moon in your 11th House of Groups. Playing by the rules is important, even when you feel that they're petty and unimportant. Putting in the extra effort to be a supportive pal and a good team player who identifies with a cause can make you more valuable to others and give a boost to your career.
Sagittarius (Nov. 22 - Dec. 21)
This New Moon falls at the top of your chart in the 10th House of Public Responsibilities. You might have fresh duties and obligations put on your plate, but it's wiser to step up your game and meet them than to complain. Sharpening your work skills requires more attention to details. This might not be your idea of fun, but it can make the difference between advancing in your job or falling back.
Capricorn (Dec. 22 - Jan. 19)
Connections with distant cultures and people in faraway places are sparked by this New Moon in your 9th House of Travel. Adapting to the customs of others demonstrates your commitment to making these relationships work. The 9th House is also a House of Beliefs and Higher Education, spurring you to become a better student and teacher, whether in the classroom or for your own philosophical purposes.
Aquarius (Jan. 20 - Feb. 18)
This critical New Moon lands in your 8th House of Deep Sharing, requiring more attention to details in close personal and professional relationships. Gaining the trust of business associates comes with more precise knowledge of what you're trying to accomplish together. Intimacy in your private life is also at stake, so putting in the time and effort to understand your partner is essential.
Pisces (Feb. 19 - March 20)
Relationships can turn in another direction with this Virgo New Moon in your 7th House of Partners. You may attract picky people, yet the purpose of this lunation is for you to be more precise about what you want and need from others. Being as precise as you can, and following that up with a willingness to work harder, makes you a more desirable and valuable ally and life companion.

Get more insight about what's coming up with a 30-Day Astrology Forecast Report from Tarot.com!