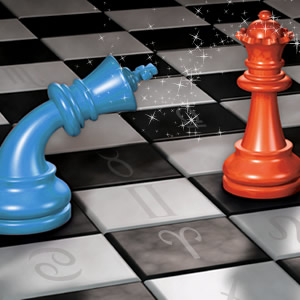 Ah, romantic chemistry: So thrilling, so unpredictable ... and yet, so exhausting. Any two horoscope signs can get along if both are willing to work out their differences. Opposite signs, however, share a special attraction right from the start -- and also face the special challenges that come with having very different personalities.
Just as a battery creates an energizing spark when opposite polarities are brought together, signs that are polar opposites on the horoscopic wheel generate sparks that can ignite passionate relationships. But spending time with someone whose approach to life is completely opposite your own can be draining, too, and eventually your relationship battery will need to be recharged. How can you and your opposite sign revive the spark that brought you together -- and maintain your relationship's sizzle?
Aries (March 21 - April 19)
+ Libra (September 23 - October 22)
When Aries meets Libra, a spark of passion is ignited by a primal clash between Aries' raw energy and unbridled sexuality and Libra's smooth charm and refinement. But over time, the spark can trigger flames of irritation as Aries tires of Libra's delicate manners and Libra despairs of ever civilizing Aries. To keep your relationship pulsating with passion rather than pique, declare détente in the battle of the sexes and work together to create something tangible -- start a business, build a house, or just cook dinner together. The complementary skills you bring to the task at hand will remind you why you're such an excellent match.
Taurus (April 20 - May 20)
+ Scorpio (October 23 - November 21)
This is a flaming hot combination right from the start. When easy-going, sensual Taurus collides with Scorpio's smoldering passion, they erupt in a conflagration of desire. Over time, though, Taurus can tire of Scorpio's intensity, while Scorpio may find Taurus a bit too laid back. Ironically, you can keep the sparks flying in your relationship by occasionally getting out of the bedroom; an afternoon with friends or an evening at a concert will help you see each other through fresh eyes -- and give you the chance to yearn for each other from afar.
Gemini (May 21 - June 20)
+ Sagittarius (November 22 - December 21)
From the moment that sparkling, intellectual Gemini meets sage, philosophical Sagittarius, your mutual love of ideas sparks immediate fascination. Your opposite approaches to the world of the mind can, however, drive you to frustration, with Gemini growing annoyed by Sagittarius' know-it-all attitude and Sagittarius irritated by Gemini's love of chatter and gossip. Transform the tension into sizzling sensuality with forays into the realms of nature and imagination. Take a swim, hike in the mountains, go on a safari; or spend an afternoon losing yourselves in music, film or art. Simply getting out of your heads for awhile can refuel your passion -- and give you new and exciting ideas to talk about.
Cancer (June 21 - July 22)
+ Capricorn (December 22 - January 19)
When sensitive, security-seeking Cancer meets strong, silent Capricorn, the classic match between supportive nurturer and worldly provider excites instantaneous attraction. Over time, though, Cancer can feel ignored by Capricorn, while Capricorn sometimes sees Cancer as too clingy. To keep your relationship from cooling, you need to remember that you're not just partners, but lovers. Follow the example of every couple in the history of television sitcoms and get out of the house, stash the kids with their grandparents, and have yourselves a real, old-fashioned date. Head to an exclusive restaurant with flowers, champagne and romantic gifts in tow -- and when you get home, slip into your most provocative lingerie.
Leo (July 23 - August 22)
+ Aquarius (January 20 - February 18)
Attraction explodes when Leo, the king or queen of the kingdom, encounters irreverent Aquarius. Aquarius, who refuses to bow before royalty, fascinates Leo; Aquarius admires Leo's ability to warm up any room with sheer charisma. Over time, though, Aquarius can become weary of Leo's need for attention, and Leo grows cranky as Aquarius continually defies social conventions. When you're ready to wash your hands of each other, drag each other off to bed instead. Spending time away from crowds and indulging the purely physical side of your relationship is the surest way to find common ground and reenergize your attraction.
Virgo (August 23 - September 22)
+ Pisces (February 19 - March 20)
Virgo is, above all, orderly and practical; Pisces swims through life deftly avoiding the stifling confines of humdrum routines. When you come together, each is titillated by the prospect of giving the other a makeover, with Virgo organizing Pisces' affairs and Pisces helping Virgo unwind and live a little. Over time, though, Virgo becomes exasperated by Pisces' unreliability, while Pisces resents Virgo's tendency to criticize and control. A regular change of scenery is the key to keeping your relationship passionate. Travel to new lands, study a language together, or just visit a new restaurant across town. Virgo will benefit from the change in routine, while Pisces will appreciate Virgo's ability to plan an efficient itinerary, remember to make reservations, or conjugate unwieldy verbs in a foreign tongue.
Get more relationship insight with a Love Celtic Cross Tarot Reading from Tarot.com!