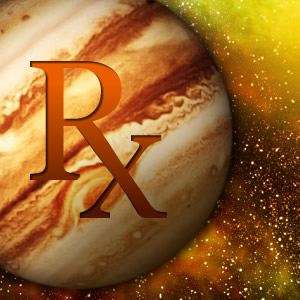 Giant Jupiter, the planet of expansion, growth and opportunity, is about to become the planet of introversion and spirituality -- at least temporarily! Jupiter moves retrograde (backward) through Libra from February 6 to June 9, 2017.
While Jupiter is retrograde, we'll spend much time looking inward and relying on our own personal wisdom. We'll draw on this to explore the growth and changes we feel we need to transform our lives and put us on the path toward becoming the people we really want to be.
Instead of the happy-go-lucky planet pushing us to go go go, Jupiter will now go slow slow slow -- which means it's the perfect time to take a time out and examine our personal philosophies and reevaluate the beliefs that motivate us on a daily basis.
It's also a time to look at the details that are a part of our larger plan. Because Jupiter in forward-motion promotes activity and going out into the world, Jupiter backwards is all about knowing ourselves and our emotional life. Reconsider truths you previously thought to be self-evident. Are there any lies you've been telling yourself in order to get ahead? Re-examine these, and be more loyal to who you truly are.
Interesting and unexpected opportunities may still present themselves during this time -- and if that happens, it will often be directly connected to lessons you need to learn, and aspects of yourself you've ignored. For example, you might be presented with an invitation to return to school, take a family trip or to reconnect with a person who you might have rejected (in friendship or love), yet who might have had a lot to teach you.
Even in retrograde, Jupiter is all about finding the highest version of yourself -- so take advantage of these opportunities, and go for it!
FInd out how Jupiter will bring you luck with a Jupiter's Promises report from Tarot.com.