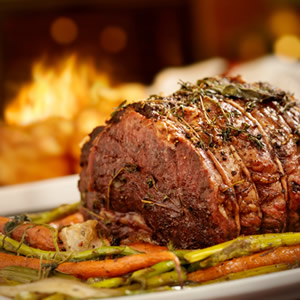 Herb-crusted Prime Rib with Horseradish Sauce
Serves 8.
Prime rib is the perfect cut of beef to impress your Holiday guests!
1 four-rib standing rib roast, 6-8 pounds
4 cloves garlic, peeled and sliced lengthwise
2 teaspoons chopped fresh rosemary
2 teaspoons chopped fresh thyme
2 teaspoons chopped fresh flat-leaf parsley
1 teaspoon chopped lavender
1 tablespoon coarse sea salt
1 tablespoon freshly ground black pepper
1/4 cup olive oil
3/4 cup sour cream
3/4 cup mayonnaise
1/4 cup prepared horseradish
1. Pat dry the rib roast. Place in roasting pan, bone side down, fatty side up. With tip of sharp knife, make slits in the fat and press garlic slivers into slits.
2. In a small bowl, combine all herbs, salt, pepper, and olive oil. Cover meat with herb mixture, cover with saran wrap and refrigerate up to overnight.
3. In a small bowl, combine sour cream, mayonnaise, and horseradish. Mix well to blend. Cover and refrigerate overnight.
4. Remove roast from refrigerator and bring to room temperature, about an hour. Preheat oven to 350º. Place in oven and roast about 2 1/2 hours, until meat thermometer reads 125º.
5. Remove from oven, tent with foil, and rest for 25-30 minutes before slicing. Serve with horseradish sauce.
Get more delicious insight with a Peace & Harmony Celtic Cross Tarot Reading from Tarot.com.