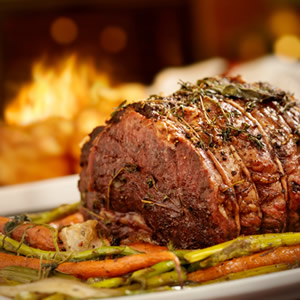 Black-eyed Peas
Serves 8
Ring in the New Year with these lucky legumes!
1 16-ounce dried black-eyed peas, soaked overnight
2 tablespoons olive oil
1 large onion, chopped
2 carrots, peeled and chopped
2 celery stalks, chopped
2 cloves garlic, minced
1 jalapeno pepper, seeded and minced
1 four pound smoked ham shank
2 bay leaves
Salt and pepper to taste
1. Pick through peas to remove any small rocks. Add to a large stock pot, cover with cold water and soak overnight.
2. In a large stockpot or Dutch oven, heat olive oil. Add onion, carrots, celery, garlic, and jalapeno, and sauté until tender. Add peas, six cups of water, ham shank, bay leaves, salt and pepper.
3 Bring to a boil, then reduce heat and simmer until peas are tender, about 3 hours.
4. When peas are cooked, remove the ham shank, let it cool. Remove ham from the bone, chop and add back to the soup. Add additional salt and pepper, if necessary. Serve with Collard Greens.
Get more delicious insight with a Peace & Harmony Celtic Cross Tarot Reading from Tarot.com.