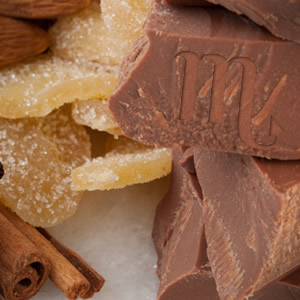 As soon as the Sun hits Scorpio, it's time for aphrodisiacs! If you know any Scorpios, it should come as no surprise that this sexy sign rules the reproductive organs. The following foods and recipes are especially for these natives, but while the Sun is in this sensuous sign through November 22, there is no better time for all signs to learn about Scorpio, romance, and to turn on their own smoldering, playful side.
While these foods actually have medicinal benefits for the reproductive organs, they're also perfect for Halloween, Day of the Dead and for the special season when romance can bring light to the darker time of the year. Serve them at your festive party, or at any special party for two!
Chocolate
Chocolate has long been considered a romance enhancer, and rightly so. It contains the mood-lifting hormones Phenylethylamine and Serotonin, which elevate the levels naturally found in the brain, increasing feelings of excitement. Ancient Aztec and Mayan civilizations discovered the mighty cacao bean and its aphrodisiac properties long before the rest of the world. Montezuma, emperor of the Aztecs, recognized the potency of drinking a beverage made of the beans and consumed massive amounts daily, but forbade his numerous wives from indulging, lest they be aroused by another! Feeding bits of chocolate by hand to the object of your affection is sure to set the mood.
Ginger
Ginger is powerful as an aphrodisiac and can increase one's prowess as it stimulates the circulatory system, flooding sensitivity to the reproductive centers. It contains zingiberene and gingerols giving the flavor of seduction to all cuisines. The ancient Kama Sutra touts ginger as one of the aphrodisiacs most potent to lovemaking. All Scorpios and any other sign seeking help in amorous adventures should always have ginger on hand.
Try Sabra's Ginger Chocolate Crème Brûlée »
Passion Fruit
The name alone can illicit the idea of romance and sensuousness! Passion fruit are the small edible globes from the passion flower vines prevalent in the rain forests of the Amazon, where it is eaten out-of-hand or used in many delicious dishes. Not only loved by the human population, the animal population is also crazy for passion fruit. Who knew they were up on the aphrodisiac properties of foods? The tiny seeds of the passion fruit represent fertility and that says it all! Scorpios and all other signs alike should hit the exotic fruit market, especially while the Scorpio Sun shines on everyone!
Try Sabra's Passion Fruit Bars »