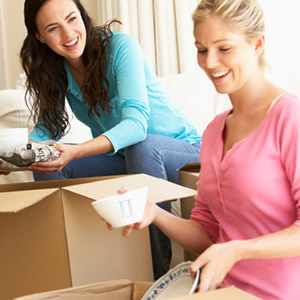 Great adventures await those who must accommodate the habits and quirks of a new roommate! Start by learning to happily co-exist with your roommate -- or find one you're naturally compatible with -- by knowing his or her horoscope sign.
Also, pay special attention to your roommate's Moon sign if you know it, as the Moon points to domestic habits and how a person behaves at home. Roommates of the same element (Fire, Earth, Air or Water) tend to get along best, but learning experiences often happen with a roommate born under a different element from your own.
Aries (March 21 - April 19)
The Aries roommate isn't afraid to introduce herself, and can be a great social spark when you run out of things to do. With an Aries around, you'll be spurred to action, yet hard-pressed to keep up with the Aries energy level. The Ram might have missed the sharing lesson in kindergarten, though, so be sure to speak up about your needs. When your Aries roommate is feeling down, either encourage physical exercise or give her time alone.
Taurus (April 20 - May 20)
No spartan living allowed for the sensual Bull -- creature comforts make Taurus smile. Plush bath towels, bedding made from touchable cotton or natural fibers, and plenty of flowers and green plants in the room put Taurus in a good mood. Try not to borrow food or money from the Bull -- Taurus tends to see this as bad form, believing that when it comes to possessions, each person should pull his or her own weight.
Gemini (May 21 - June 20)
Looking for an all-night chat companion? Gemini's the one to help discover new worlds inside the mind. Curious about everything but typically lacking focus and follow-through, your Gemini roommate may need direction and persistence toward attending to important priorities. Spontaneous travel to places with a local buzz about them will delight the Twin. Gemini also loves gadgetry and chatter. If you're the silent type, you may need to go to the library to get some peace and quiet.
Cancer (June 21 - July 22)
The Crab carries its home on its back, and thus the Cancer roommate will aim to make your home as cozy as possible. Family mementos, window curtains, pots and pans for food preparation, and storage for snack foods will be important Cancer comforts in the dorm room or apartment. Like the water signs Pisces and Scorpio, Cancer will find a small running waterfall (available at most home stores) a soothing addition to the environment.
Leo (July 23 - August 22)
Should I pray for you? Living with a Leo isn't for the faint-hearted. Whether your Lion roommate is the strong, silent type or is constantly seeking center stage, Leo's fixed opinions and sense of entitlement may prove to be the bone of contention in your living arrangement. Be flexible, but don't constantly give in to what Leo wants; encourage his or her generous spirit by asking for more of what you need and desire, too.
Virgo (August 23 - September 22)
Some say the Peanuts cartoon character Pig Pen was a Virgo. Yet most Virgo roommates wouldn't be caught dead trailing a cloud of dust. Count on your roommate to keep the bathroom clean and the CDs or mp3s alphabetized by artist name. The downside: Virgo's finicky eating habits may put a crimp in your late-night pizza adventures. On the other hand, the Virgin's refined tastes may expose you to new foods, music, art or technologies you'd never hear about otherwise.

Learn more about your roommates (or screen them!) with an Essential Birth Chart Report from Tarot.com.