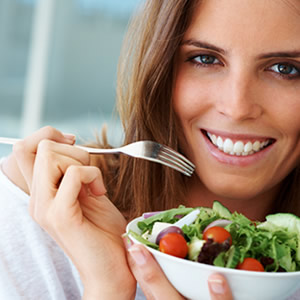 Libra (September 23 - October 22)
The Zone
You've probably not ever read this about yourself before, Libra, but contrary to popular opinion, you're not the horoscope sign that specializes in being balanced -- your job is to restore balance. So a diet that allows you to do that for your health and your body ... well, that's the one for you, and The Zone is perfect. It's all about balance: your mission is to be sure that your daily intake includes 40 percent carbs, 30 percent protein and 30 percent fat. In fact, it's been touted as one of the only diets that really does promote moderation.
Scorpio (October 23 - November 21)
The Sonoma Diet
You, Scorpio, adore physical pleasures -- which include food, of course. You also hate feeling deprived of your desires. That makes dieting tough -- so The Sonoma Diet is absolutely tailor-made for you. First, it doesn't make you feel as if you're dieting. That's a plus. It's described as focusing on food enjoyment and flavor! It also allows you the luxury of choosing from ten power foods, too -- and "power anything" is right up your alley. Definitely check this one out.
Sagittarius (November 22 - December 21)
Fat Flush
Every horoscope sign has one particular part of the body that belongs to them. Aries, the first sign, "owns" the head, Taurus rules the throat, and Pisces, the last sign, is in charge of the feet. You, Sag, hold jurisdiction over the thighs and hips -- which makes this definitely the diet for you. The Fat Flush specializes (according to nutritionist Ann Louise Gittleman, Ph.D.) in ridding fat from the hips, thighs and waist ... in two weeks. Why, that even works for your innate Fire-sign lack of patience!
Capricorn (December 22 - January 19)
The Grapefruit Diet
If there's anybody out there who eats to live instead of living to eat, it's you. You also have more willpower than at least nine of the other signs put together. For those reasons, to start with, this diet is perfect for you. Lots of folks would avoid a diet based on one particular food like the plague, but you won't mind a bit -- especially since this diet has been around for 70 years ... and you know how you feel about resilience.
Aquarius (January 20 - February 18)
The Cabbage Soup Diet
A quick review of this diet proves that it's absolutely perfect for anyone who's ready to completely change their lifestyle, do it for a short, intense time, and expect quick results. Talk about a match made in heaven! In fact, many reviewers describe it as a rather odd, unusual and even "off the wall" way to lose weight. The key is to use this as a one-week, quick solution -- say, to get yourself into a special outfit, via an entirely new daily routine, including food, exercise, and temporarily putting aside those little extravagances you often reward yourself with.
Pisces (February 19 - March 20)
Bob Greene's Diet
This diet seems just perfect for you, Pisces. First of all, it's based on helping you to take control, not just physically, but emotionally as well. Now, you're a Water sign, and Water equals emotions, so it's a good bet that when you're stressed or unhappy, you may turn to food for comfort. This diet, according to its founder, Bob Greene, prompts you to take a look at the role your feelings play in your weight loss struggle, and to uncover and understand the emotional triggers that add those unwanted pounds. Greene also provides tips on how to sneak a bit of exercise into your life, gradually increasing it until you're not only used to it, but enjoying it.

Get more personal insight with a Celtic Cross Tarot Reading from Tarot.com.