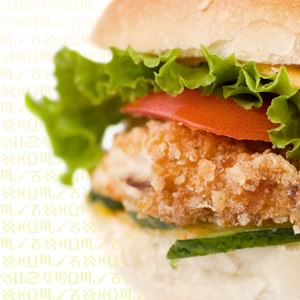 You're not alone if you're counting every dining dollar. It was just announced the tight economy slowed the increase of diners at sit-down restaurants to just one percent in 2010, while fast food consumption is still on the rise. And what's wrong with nabbing a quick, affordable bite on the run? Nuthin, that's what.
Fast food sometimes gets a bad rap, but with today's healthier menu options, convenience and low prices, it can be a fine -- and fun -- alternative to eating out in more expensive establishments. Just as long as you don't do it every meal, right?
So now that you know indulging in the occasional McFastFood fix won't hurt your Karma, what are you going to order up at the drive-through? With so much variety available at so many fast food chain restaurants, there's something to appeal to every horoscope sign. See what types of quick eats appeal to you. (Would you like to SuperSize that?)
Aries (March 21 - April 19)
Ruled by hot Mars, Aries loves anything spicy -- as in, smothered with a sauce likely to burn holes in your tongue. Your best bets for fiery fast foods are Dairy Queen's 1/2lb. FlameThrower GrillBurger™ (beef topped with fiery FlameThrower sauce, pepper jack cheese, jalapeno bacon and more) or Carl's Jr.'s Spicy Chicken Sandwich.
Taurus (April 20 - May 20)
The Bull loves its fast food simple, but still meaty enough to pass as "real." No ground beef for you! How about Burger King's Steakhouse Burger, smothered in A1 Thick & Hearty Steak Sauce? You'll surely feel like a real man or a rugged woman when you chomp on this. And you can't go wrong with Arby's Regular Roast Beef Sandwich -- pile it on!
Gemini (May 21 - June 20)
The key for Gemini, the horoscope sign of the Twins, is variety. The Subway Club fits the bill, including turkey breast, roast beef and ham, with a wide choice of veggies and condiments all on one sandwich. How's that for options? You might also try a Pizza Hut Pan Pizza with a vast array of toppings, from sausage to olives to banana peppers -- but will a pizza be fast enough for you?
Cancer (June 21 - July 22)
How do you get that home-cookin' feel that Cancer craves -- at a fast food joint? Boston Market, of course! Serving family meals like beef brisket, meatloaf and rotisserie chicken with cornbread and sides like mashed potatoes and steamed veggies, Boston Market's comfort food hits the spot.