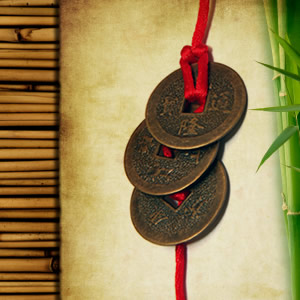 Are your finances getting you down while opportunities pass you by? Maybe your wealth energy is blocked. The ancient Chinese art of Feng Shui is a great way to open up those energy channels so you can attract more abundance into your life. It's easy to do and you don't have to invest a lot of cash to pull it off. Just follow these simple Feng Shui tips for each area of your house or apartment.
Welcome prosperity
At the main entrance to your home, hang three Chinese coins -- tied together with red ribbon -- on the door handle. Cut the ribbon into 9- or 18-inch lengths, since the number 3 is key to wealth in Feng Shui. You can find Chinese coins in most Asian grocery stores. If you have extra I Ching coins, use those.
Be sure the door opens fully without anything in its way. (This is a good tip for every door in your house.) Oil squeaky hinges, clean the glass and consider painting the door. Red is a good color for prosperity.
If you are in a Chinese store or surfing the Internet for Feng Shui items, look for a three-legged frog. Sometimes they come with a coin in their mouth, or you can put one in to make it more potent. These cute little figures attract good fortune, and the ideal place for them is diagonal from the entry, under a table or desk.
Make sure your entrance walkway is well-lit and free of clutter, too. Place flowering plants along it -- red is the best color -- and group them in, you guessed it, threes!
Freshen up every room
Feng Shui is all about being neat and clean, so plan on giving your entire house a once-over. Getting rid of the old will help you attract the new, so throw out or give away anything you don't need. Make special places for items that tend to get strewn around so you can keep your space orderly. Remember: clutter is a big Feng Shui no-no because it blocks chi (positive energy).
You can brighten up the energy in any room simply by moving around the furniture. The Feng Shui rule is the same for any space: less is more. Too much stuff -- furniture, knick-knacks, whatever -- can make any space feel cramped, and block the flow of opportunities.
Live plants are great for wealth Feng Shui, so fill your house with them. Round leaves are preferable because they resemble coins.
If you work at home, hang a chime from the ceiling above your work area to attract good chi, wisdom and success.