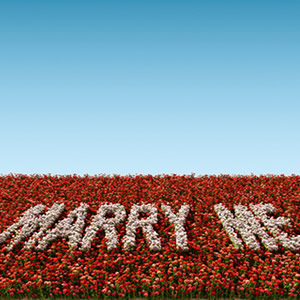 "Engagement season" begins during the holidays and culminates on Valentine's Day, which many would say is the most romantic day of the year. Wondering how your sweetheart might propose to you during this romantic, family-driven time? Look to the stars for insight, as each horoscope sign has their own unique style when it comes to popping the question.
From fiery Aries to watery Pisces, the zodiac holds the secrets to how each sign is most likely to ask for your hand in marriage. Read on to find out more about what kind of ring your lover might offer, the setting they'll choose and the special way they'll ask you to share a new life together.
Aries (March 21 - April 19)
Bold and courageous Aries is likely to propose to you spontaneously while you're in the middle of some extreme sport like rock climbing or hang gliding. Though it may not be romantic, once this fiery sign knows they wants you, they will come right out and tell you, no matter where you happen to be. Because they act on impulse, they may not come prepared with a ring, but they will make up for it later.
Taurus (April 20 - May 20)
Expect a traditional proposal from this stable Earth sign. Taureans may take their time proposing, but once they do, they'll want to do it right. Your Taurus will probably pick a suitably romantic spot, get down on one knee and offer you a ring that is both classic and of high quality. Taurus loves to indulge, so chocolate and champagne may be part of your special moment as well.
Gemini (May 21 - June 20)
Given Gemini's love of words, you may find that your proposal comes in some kind of written form. Look for a letter, a personalized fortune cookie, a message on the beach or even skywriting! Your Gemini will also probably enjoy injecting a note of humor and trickery in your proposal, so you may find your ring at the end of a scavenger hunt, or as the answer to a riddle.
Cancer (June 21 - July 22)
Family is key for Cancer proposals, so make sure your Cancer gets lots of time around your parents to formally ask their permission. Your Cancer sweetie is likely to plan their proposal around some kind of family event as well, so that you can immediately share your news with loved ones. Expect a family heirloom as your ring, as the sign of the Crab loves to stay connected to the past.
Leo (July 23 - Aug. 22)
Leo's love of luxury, drama and attention is likely to make this proposal unforgettable. Your loving Lion will probably want to demonstrate their love for you in public, ensuring a proper audience for this big moment. The sign of the Lion wants to impress you, so expect them to pull out all the stops to demonstrate their love and regard for you. Your Leo wants to not only propose, but create a fun event to remember.
Virgo (Aug. 23 - Sept. 22)
Organic and earthy Virgo will want to propose to you with no fuss and muss, but they will still want all the details to be perfect. Expect a light meal, a natural setting and a ring made with natural materials. Your green guy or gal wants to make sure their proposal is down to earth and simple, ensuring that their love shines through, unencumbered by too much glitz and glamour.
Get more insight about the bride or groom with a Love Celtic Cross Tarot Reading from Tarot.com!