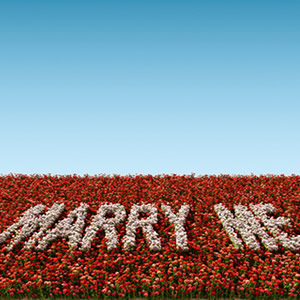 Libra (Sept. 23 - Oct. 22)
As one of the most romantic of horoscope signs, your Libra will want their proposal to be special and beautiful. Flowers, music and an unforgettable setting will set the mood. Libra may write you a song or poem to communicate their love for you, or enlist the help of friends to get the message across. You can also be assured that there will be a sweet story behind the ring they have picked for you.
Scorpio (Oct. 23 - Nov. 21)
Private and intense, Scorpio will only propose to you when you are alone or in front of people you both know and trust. For this watery sign, love is a life or death matter, so they will only ask you to marry them when they really mean it. Expect a proposal that is deeply emotional and honest, since you can count on Scorpio to get right to the heart of the matter without hesitation or superficiality.
Sagittarius (Nov. 22 - Dec. 21)
Blunt Sag may not plan the proposal ahead of time, but rather get caught up in the heat of the moment and just say what they're thinking. Though you may not get flowery words and a romantic backdrop from this straightforward horoscope sign, when they do pop the question, you will know exactly what's on their mind and in their heart. Bonus: this adventurous, globe-trotting sign will probably take you to the far reaches of the globe to celebrate your new life together, honeymoon-style!
Capricorn (Dec. 22 - Jan. 19)
Cautious and thoughtful, Capricorn may propose in an almost businesslike way. They will only say it when they really mean it, so be patient if it seems to take a while. Try not to be hurt if they have a pre-nup already prepared, they just want you to know they're serious. You can expect the ring they offer to be of top quality -- they want to demonstrate their commitment and regard for you.
Aquarius (Jan. 20 - Feb. 18)
Unconventional Aquarius may let it be known to you that they want you to propose, hoping to turn expectations upside down. In any case, this quirky sign likes to break the rules of convention, so don't expect a traditional proposal. If they do decide to let their intentions be known, expect a few surprises, as Aquarians like to do things their own way.
Pisces (Feb. 19 - March 20)
Intuitive and sensitive, Pisces will use their considerable imagination to come up with a proposal that is both dreamy and otherworldly. Expect creativity and a touch of magic as the sign of the Fish asks for your hand in marriage. Though they may get confused about some of the details, leaving the ring at home or confusing the timing of events, you will always know that their heart is in the right place.
Get more insight about the bride or groom with a Love Celtic Cross Tarot Reading from Tarot.com!