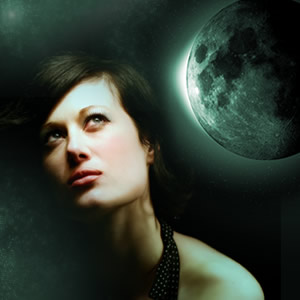 We hear a lot about Sun signs in Astrology, but do you know how much the Moon also affects you? Changing signs every two and a quarter days, the Moon is the fastest moving astrological "planet."
The Moon represents our emotions, and as it travels through the different horoscope signs, our moods follow suit. We feel best and operate most effectively when we're cooperating with the energy of the Moon, as indicated by the horoscope sign it's in at any given time.
Monthly power times
Pay special attention to when the Moon is in the same sign as your Sun sign -- these few days of each month are your power times! The tides are flowing in your direction, so you'll feel more confident and energized, and people are more likely to respond to you positively.
So, if you're planning to invite someone special out on a date, ask for a raise, go on a job interview or any other task requiring self-assertion and risk-taking, these are the days to go for it.
On the flip side, when the Moon is in the sign opposite to your Sun sign, keep a low profile. (If you're not sure which sign is opposite, just count six signs away from yours.) Catch up on rest, and do for others rather than expecting things to go your way. Plan accordingly -- this is not the time to push it and try to get ahead.
Discover how to make the most of the Moon's visit to each horoscope sign:
Aries Moon
Get physical! The first horoscope sign calls for action and movement. Go for a run or hike, dance, work out at the gym or find some other way to let off steam. Tempers can rise under this fiery Moon, so find healthy outlets for expression -- physical and/or creative. This Moon can light a fire under you to start putting your ideas into action, so take a risk in the direction of your desires.
Taurus Moon
Slow down and take time to nurture your body and the planet. This sensual and earthy sign invites you to appreciate the physical world and the realm of the senses. Walk through the woods, work in the garden, get a massage or play soothing music. This tends to be a mellow, restful and reflective Moon -- a time to practice simply being.
Gemini Moon
Call your friends, catch up on emails and chat with the neighbors while the Moon visits the airy sign of the Messenger. Your mind is especially active, even hyper-active, so give it something to stew on. This is an ideal time for taking (or teaching) a class, learning something new and exploring multiple perspectives. Follow your curiosity and keep an open mind.

Get more insight and advice with a Celtic Cross Tarot Reading from Tarot.com!