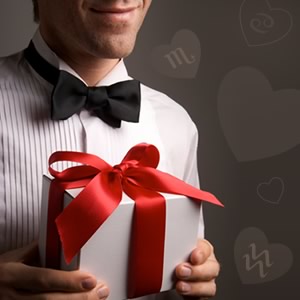 For many women, Valentine's Day is an emotional time. The operative question is, "How much do you love me?" Therefore, forget about practical gifts on this holiday.
Something romantic is essential, even if you're not the romantic type. Every woman wants a special gift or experience geared just for her. Knowing your beloved's particular affinities will help you zero in on what will please her most. (Be sure to check out our Valentine's Day Gift Guide for Him, too!)
Aries (March 21 - April 19)
Diamonds are definitely this girl's best friend. Her tempestuous nature loves the fire and sparkle of gemstones. Even better if they're in an engagement ring! And if your Aries was born in the month of April, you'll score points knowing the diamond is April's birthstone. But if you can't afford such a high-end purchase, a charm bracelet with your names engraved in a heart will thrill her to her toes. A hot air balloon ride would really get her going, too.
Taurus (April 20 - May 20)
The Taurus woman has a lot on her plate, with all the work-related activities she juggles. Give her a lovely surprise that will lighten her load, like a spotless house, a romantic dinner or a getaway she had no idea was coming. The fact that you paid attention when she once hinted around about a place she longed to visit will score you extra points.
Gemini (May 21 - June 20)
A three-day sojourn out of town is right up the Gemini girl's alley, as she loves to visit new places. And, a letter or original poem that comes from your heart, however grammatically incorrect, would also be a big plus -- because that's what she'll surely do for you. A promise to do the dishes or clean the house for a week also rates highly with your Gemini lady.
Cancer (June 21 - July 22)
The Moonchild wants you to demonstrate your affections in the most sentimental way possible. Start with a card that may seem flowery to you but will move her deeply. Add a message about how much you love her and why she's so special, then take her out to her favorite restaurant. You can't go wrong with pearls and roses, but if you're giving chocolates, make sure it's in her diet plans.
Leo (July 23 - Aug. 22)
It's crucial to your Leo woman that you put a lot of thought into whatever you give her. It may be simple, like a bouquet of daisies (if that's her favorite flower). Colorful balloons that say, "I Love You" are great. The Lioness loves gold and gems, but if it doesn't reflect her style, a simple card and a CD of her favorite music would be better.
Virgo (Aug. 23 - Sept. 22)
The earthy Virgo woman craves tangible proof of your commitment. A simple "promise ring" is good. Even better, go out shopping together and buy one for each other. Create a special love nest, then spend several hours pleasing her. She'd love a hike together to the top of a mountain where you shout your love for her to the world, or carve your names in a tree.
Libra (Sept. 23 - Oct. 22)
The Libra woman saves all the cards and love notes her beloved has ever given her, and takes them out periodically to savor the expressions of love. So a card with your feelings expressed in your own words is first and foremost. Then, treat her to an elegant meal by candlelight. Items of beauty are always welcome, from flowers to pretty lingerie.
Scorpio (Oct. 23 - Nov. 21)
For all her mysterious sexual allure, the Scorpio woman is a realist. For her, a quiet walk together appreciating the beauty of nature might express your love better than an over-the-top display of balloons and flowers. The sensual side of her craves your total attention, so plan a getaway to somewhere hidden and romantic, and watch as she absolutely swoons!
Sagittarius (Nov. 22 - Dec. 21)
The Sagittarian woman appreciates you taking the time to do something special for her, and values that more than an expensive gift. So cook her a special dinner with wine, candles, a red rose and a heartfelt card. Or you could plan a picnic somewhere beautiful in nature if it's warm enough, or have lunch at a place with a gorgeous view if it's not.
Capricorn (Dec. 22 - Jan. 19)
This woman likes a sensual man. A two-hour massage given by you would be her idea of Valentine heaven. It would be worth taking a class to learn how to do this properly -- her deep appreciation for your attention to her weary bones will pay off in unimaginable ways. Practical gifts are also good, like tickets to a show you'll both love.
Aquarius (Jan. 20 - Feb. 18)
Not really a classic romantic, the Aquarius woman has a curious mind. She'd love an intriguing book or music CD she's never heard before, or a fun electronic video game. The card you give doesn't have to be mushy, just sincere. If it plays music, even better. If you really want to prove your love, take her on a dream vacation to Hawaii!
Pisces (Feb. 19 - March 20)
This woman wants to know how you feel about her, so a written note describing your feelings is essential. Then, something that would offer some quality time together, like a day at the spa or a romantic weekend getaway, would make this kitten purr. She is a classic romantic, so roses or another favorite bouquet of flowers will make her melt.
Get personal love advice with a Big Picture Love Forecast from Tarot.com!