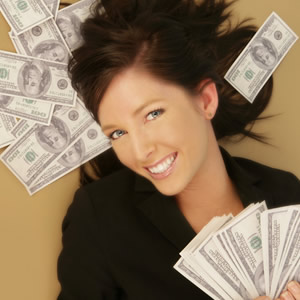 Feeling lucky? Some of you must! Frenzied folks in 41 states and Washington, D.C. are lining up today for a chance to win one of the biggest jackpots in U.S. lottery history. Today's Mega Millions jackpot is worth $355 million, and the winner (if there is one) will be announced tonight. What we want to know is, can having good Karma help you win the lottery?
And is playing the lottery an ethical question? An IQ question? Or maybe even a Karmic question?
Technically it's gambling. But many of our lottery dollars fund important community needs -- roads, schools, state institutions and the like. Isn't it worth a gamble here and there if you can afford the risk, and if it benefits society in some way? Today's cosmic energy is all about taking risks to better yourself, after all.
Once you've answered the lottery's ethical questions for yourself, the next obvious question is... why play against such astronomical odds of winning? Is that a smart use of your money in today's economy? The odds of winning the Mega Millions jackpot are 1 in 176 million. Why bother, right? But maybe your odds are better if you've got Karma on your side.
We all know Karma can come back in unexpected ways. Can it really help you win the lottery? Maybe so. Just read about these two kind souls in Portland, Ore. who found winning lottery tickets on the street and were able to use the winnings when they really needed them. As one of them explains, "I always am nice to people, and I believe always being nice and kind to others produces good Karma. Karma always comes back to you, but, sometimes people miss it. They miss it because they're too busy, or just plain don't realize it sits right in front of them."
You may not find a winning lottery ticket in the street today, but if you've been building better Karma right along with us here at DH, perhaps your odds of winning the Mega Millions are better than some. And even if you don't win, your good intentions will surely help you win a Karma lottery that's priceless.
Good luck! And let us know: Do you think having good Karma can help you win the lottery?