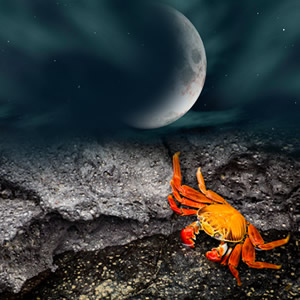 Listen up: We need you to be on your best behavior this weekend. Sometimes -- through no fault of our own, of course -- the planets can work together in unfortunate ways that make our typically sweet selves act out with some downright bitchy behavior. Let's work together now to prevent that!
It's the weekend of Saturday, April 9 and Sunday, April 10, and we're here to help you check yourself before you wreck yourself.
See, on Saturday, the jittery Gemini Moon is distracting us from paying attention to what's truly important. We may say something that hurts someone's feelings without even realizing it. And with Mercury Retrograde conjunct the energetic Aries Sun, gasp, we might not even care!
It's not that you're a meanie, it's just that you're super good at rationalizing things Saturday. So try to think before you speak while you're moving so fast and thinking primarily about yourself, because you don't want to hurt someone you care about by being insensitive.
Fortunately, as Saturday night leads into Sunday, the Moon will move into Cancer and reawaken your sensitive side. Except… uh-oh, now you're too sensitive! You're hypersensitive, in fact, and now you'll want to be careful of lashing out at people just because you're feeling insecure.
Have you noticed how sometimes when you're too focused on your own feelings, you stop paying attention to the feelings of others? That's a risk on Sunday, when you'll need to practice and be open to communicate about your feelings instead of crying or yelling when you're hurt.
You can do it! We know the real you is just waiting to crawl back out of that crabby shell you're hiding in.
Read all the past Daily Buzz astrology advice articles here.
If you like what you see on dailyhoroscope.com, please consider following us on Facebook and Twitter. Daily Buzz is based on the astrology of Rick Levine and Jeff Jawer.