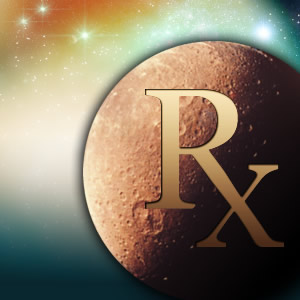 Everyone's been asking when the next Mercury Retrograde will come, and here it is ... right at the end of the year! From December 10 to 30, the little planet that can cause huge headaches will be doing its backslide while the rest of us are hauling out the holly and making as much merriment as possible. The bad news is, Mercury will be a factor in most travel plans and efforts to communicate as we send out good cheer to all, but there will be good news, too.
Just after placing a toe into the work-obsessed turf of Capricorn, Mercury will move back into the spark-plug country of Sagittarius just in time to give your holidays a jolt! From Dec. 18 until the end of the year, a raucous, rambunctious mood will pervade most people's thoughts, thanks to Mercury's dive back into this bouncy and boisterous sign.
How will Mercury's antics affect you? Read on for your sign to see what areas of life will take a turn for the wilder and crazier, and get a preview of how it will feel to say "ta-ta" to 2010.
Aries (March 21 - April 19)
Get all the serious stuff out of the way in early December, Aries. Mercury will begin its retrograde by playing games with your 10th House of Success, then push you to have some fun sucking up knowledge and chasing down the charms of faraway places when it hits your 9th House of the Exotic. Some projects, especially any changes you attempt to push through with the subtlety of a bulldozer, may be slightly reversed over the course of the next few weeks. It could be a good time to review your facts and figures so you can make sure you're doing things right when you push forward again. End the year with a tribute to the unusual, perhaps by jetting to someplace warm, or mastering the phrase "Welcome, 2011" in several tongue-twisting languages.
Taurus (April 20 - May 20)
You want to move forward, but you can never resist getting stuck in some unfinished business. At the beginning of the retrograde, some plans to travel could become bogged down by financial worries as Mercury hits your 9th House of Faraway Places. Consider less lavish accommodations or ditching an unnecessary rental car if you feel you can't afford all the luxe amenities. But on Dec. 18, Mercury backs into your 8th House of Intimacy, so if your options are open, try calling up a romantic partner from the past that didn't seem too meaningful at the time. It's time to celebrate the joys of connectivity and spiritual love that will stick with you throughout 2011.
Gemini (May 21 - June 20)
Just because mischievous little Mercury is your ruling planet, don't let this retrograde get under your skin. Your relationships will be the focus as Mercury backs through your 8th House of Intimacy and 7th House of Partnerships, and although it's touchy territory, you can create a situation that makes it pleasant to live up to your commitments. With the holiday hubbub as background, you should be able to observe your own needs for a nice balance between the company of family and friends and personal tranquility. After the eclipse of the Moon on Dec. 21, you'll be emboldened by the possibility that dreams can come true. Take the one you want the most and make it happen in 2011.
Cancer (June 21 - July 22)
This December, wily Mercury will mess with the way you balance your one-on-one partnerships with your compulsion to take care of others. The first part of the month might be particularly romantic, especially when Mercury meets up with Pluto on Dec. 5 and again on Dec. 13. But after it retreats into Sagittarius on Dec. 18, the family-pleasing, cooking and baking you love to do for the holidays could encroach upon precious cuddle time. Don't leave your partner out in the cold during Mercury's stay in your 6th House of Daily Routines. Instead, use its re-visit to Sagittarius to discover a way to make time in your schedule for all the things that matter most to your caring heart in 2011.
Leo (July 23 - Aug. 22)
Mercury's retrograde confusion will definitely toy with your inner compass, but it'll never leave you short of composure. Expect troubles relating to your plans and daily routine while Mercury visits your 6th House of Day-to-Day Activities until Dec. 18. Also, be on the lookout for a health problem you might have swept under the rug at an earlier time. After Mercury strikes your 5th House of Romance on Dec. 18, the last half of December will be filled with surprising opportunities to flirt with a hot lover, who could even be someone you already know! Set your GPS for the directions to that smokin' New Year's bash, so you can make your entrance to 2011 on cue.
Virgo (Aug. 23 - Sept. 22)
For you, Virgo, the Mercury retrograde period will be a time of testing out your ability to have fun while you perform the duties you execute so flawlessly. But striving for a spotless house, the perfect holiday feast, and traditional family gatherings don't have to prevent you from enjoying every minute of the season. Pay attention to the way you feel at the beginning of the month, before Dec. 18, while Mercury is in your 5th House of Fun and Frivolity. Those early office parties could put you in a festive mood you won't want to let go of. Rather than succumbing to the pressures of expectations, picture yourself as the life of the party, and spread enough cheer around to last the whole gang through 2011.