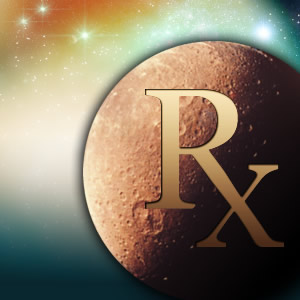 Libra (Sept. 23 - Oct. 22)
With so many beautiful distractions during the holiday season, you'll really have to maintain focus throughout this Mercury Retrograde. And what you really need to focus on is what's going on in your own mind. Because you love to please others so much, Mercury's backward move in Capricorn and your 4th House of Home Life could land you in a sticky web of family drama early in the month. If you only make one decision all season, let it be that you'll do what's easiest and best for you when it comes to celebrations. After Dec. 18, mental stimulation will make Mercury's revisit to Sagittarius a fertile time to determine what you really think. Re-connect with a brother, sister or neighbor who knew you back when life was simple, and resolve to spend more time together in 2011.
Scorpio (Oct. 23 - Nov. 21)
"Bah, humbug!" could rightfully be your mantra, as Mercury makes its way from your 3rd House of Close Connections back to your 2nd House of Money. Mistakes on the balance sheet might not work out in your favor. A deeply reverent person like you knows this holiday time is about far more than the shopping bargains waiting to be found. Beware of any tendency to splurge at the malls -- the material goods of this world mean little in comparison to the deep and transformative nature of human passion. Center yourself on what really makes the season beautiful: the warmth of friendship, the security of family, the joy of everlasting love...
Sagittarius (Nov. 22 - Dec. 21)
Watch your money, Honey! Mercury's retrograde visit to your 2nd House of Resources might bring on a deceptive element that skews your finances in a less than desirable direction. Earning and spending are both gratifying; but one has to be at least equal to, and hopefully greater than, the other. Your generous spirit could get you in big trouble, especially with Jupiter sending excessive tendencies in your direction. And you won't be thinking clearly when Mercury goes back into your sign on Dec. 18, because it will be moving in the wrong direction. Maybe the best thing you can do is procure a nice-but-practical holiday gift for yourself! Then you can wear it, carry it or drive it when you hit the party circuit in 2011.
Capricorn (Dec. 22 - Jan. 19)
Your dignity could be vulnerable while Mercury is retrograde, but rest assured you're the only one who'll notice any little faux pas. While it's in your sign until Dec. 18, Mercury will tap on your patience until it's drained. You won't say what you mean, and people may think you don't mean what you say. Worse yet, when the zany little orb moves back into Sagittarius after that, you'll dream up a billion ways to beat yourself up. Ask yourself: is that the way you want to spend the holiday season? Turn it all around by finding a strong spiritual anchor. Indulge in the mysticism surrounding this time, when the darkest of nights are illuminated by the brightest of lights. Create plans that make the arrival of 2011 something to celebrate!
Aquarius (Jan. 20 - Feb. 18)
You could get all philosophical when Mercury slows down in your 12th House of Contemplation, but your serious state of mind won't last all that long. After Dec. 18, you'll fall for Sagittarius' party-loving mood the first chance you get to gather with your friends and celebrate new beginnings! With Mercury then in your 11th House of Group Interactions, you may occasionally have to play traffic cop ... but cohorts should quickly become confidantes. The spirit of friendship and joy will fill your soul and your contagious smile will lift spirits everywhere you go, perfect for capping off the year with a fiery New Year's Eve fete.
Pisces (Feb. 19 - March 20)
You might not want to think Mercury's retrograde will have an effect on you, but by the end of the month, you'll probably witness some magical things that only seemed to happen all by themselves. In the beginning, Mercury's visit to your 11th House of Groups could embroil you in team efforts that seem rudderless and without hope ... until you bring your undying faith in the human race to the table. You inspire others while simply being exactly who you are, and this will attract lots of attention from the higher-ups. When Mercury makes its way into Sagittarius and your 10th House of Status, your name may be back into consideration for a position they passed you over for in the past. By the time you warmly greet 2011, you could be celebrating a new gig that lets you call a lot of the shots.