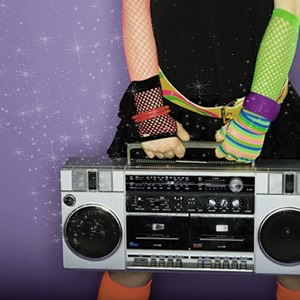 Pull out your crimping iron and your parachute pants, people. Life is one big '80s theme party today as we're caught between "Working Girl" and "Risky Business." And you know what? We're ready to dance-fight it out.
It's Monday, Jan. 31, and as our master astrologers Rick Levine and Jeff Jawer put it, "we're dancing between the cautious restraints of Saturn and the erratic expressions of Uranus." It's like caution and daring are having a dance fight in our mind -- kind of like that classic dance scene in "Once Bitten" circa 1985, when Jim Carrey gets pushed around the dance floor between a naughty vampire and a nice nursemaid.
So, er, what kind of soundtrack are we listening to?
The Moon and several planets in cautious Capricorn are working to lend stability to the day and holding us back a bit, but the Sun and Mars in open-minded Aquarius are pushing us "Back to the Future' in an impulsive manner.
We may find ourselves moonwalking determinedly toward our goals (in a power-suit with sky-high shoulder pads, no doubt), only to be thwarted by our own inner "Teen Wolf" busting loose to have a little fun.
Youll wrestle these conflicting energies most of the day, and we're curious to see which wins out. Or perhaps they'll cancel each other out? Either way, take advantage of the active energy while it lasts, because as we move into the late afternoon you may be bit by some sad feelings.
When the Capricorn Moon forms a square to Saturn at 2:40 p.m. PST, it's possible you'll feel a little lonely and out of touch with others. It's like when Michael J. Fox worries no one will like him now that he's a teenage wolfman, only before he knows it the spell is broken and he's back to being Mr. Popular.
This transit is fleeting, so try to tough it out -- maybe rent a fun '80s flick and practice your dance moves for real. Or get out there and help someone stuck in the snow with a random act of cold-weather kindness. Above all, remember, you're not a wolf and we all like you just fine. Now let's dance!
Read all the past Daily Buzz astrology advice articles here.
If you like what you see on dailyhoroscope.com, please consider following us on Facebook and Twitter. Daily Buzz is based on the astrology of Rick Levine and Jeff Jawer