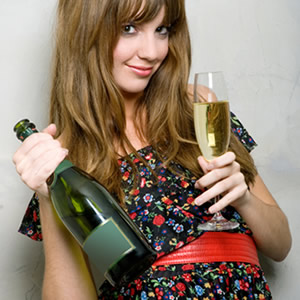 As we head into the first weekend of the new year, the cosmos are giving us a nice little break from the intensity of the past month. 2010 was just determined to drive us crazy right down to the last day, wasn't it? Hmph.
Thankfully, we'll greet the weekend -- and 2011-- with a positive frame of mind and ready to party like it's still 1999. Only make that $19.99, which is about the extent of our limited party budget this financially challenging year. (No worries, Rite Aid sells pink champagne at $3.99 a pop for those of us on beer budgets with cheap champagne taste.)
On Friday, a.k.a. the last day of 2010, the Moon is in Scorpio for most of the day, making a trine to Jupiter and Uranus that foreshadows changes for the better in 2011. (YESSSSSSSS! Finally!) We'll be in a warm and friendly mood most of the day, excited and perhaps seeking something new and different to do on New Year's Eve -- sorry, but watching Dick Clark's New Year's Rockin' Eve at home on TV just isn't going to cut it this year. Get out there and take advantage of your madcap mood!
When the Moon slides into optimistic Sagittarius just a few hours before the MTV ball drops Snooki into New York City's Times Square, our spirits will soar even higher just in time to find the perfect midnight smooch -- whether it's with your sweetie or with someone new. Many believe the way you ring in the New Year will set the tone for the entire year ahead, and this year that's a good thing -- let's toast to maintaining this evening's happy, upbeat energy throughout 2011.
We're pretty sure we can at least carry the good vibes into Saturday, when Mercury (now moving direct) begins to pick up speed and boosts our energy to make plans and chatter about them. It's the perfect day for making New Year's resolutions, because you'll be in touch with your feelings and have an optimistic outlook about sticking to your goals. Even if your biggest goal is a snoozer like Justin Timberlake's.
Your chatty mood will continue into Sunday, when you may even get a little carried away with your bright ideas and fantasies. With the Sagittarius Moon squaring the Jupiter-Uranus conjunction (which will be exact on Tuesday), you're encouraged not to live so much in the future that you forget to pay attention to the present.
We know -- that's not easy advice to follow when you have a cheap pink champagne hangover. But at the very least try to share your big dreams with someone you love this weekend, which is the best way to live in the present and the future at once.
Happy New Year!
Read yesterday's Daily Buzz here.
If you like what you see on dailyhoroscope.com, please consider following us on Facebook and Twitter. We need your help to spread the word and fill the world with good Karma!