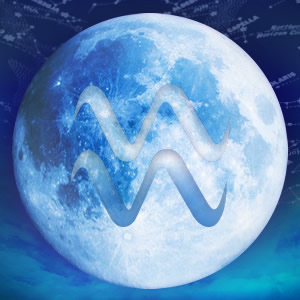 Get ready to party! The sociable Aquarius Full Moon on August 1 makes an opposition to the expressive Leo Sun that encourages playful behavior. A buoyant mood is almost assured because expansive Jupiter is also making favorable aspects to the Sun and Moon. Sociability is kicked up another notch with active Mars in gracious Libra providing support, so get out there to mix and mingle.
There is just one area of conflict, which is the contrast between democratic Aquarius and dominating Leo. This requires some ego reduction to ensure cooperation. See how the Full Moon in Aquarius will affect your horoscope sign:
Aries (March 21 - April 19)
Group activities demand more of your attention with this expressive Full Moon in your 11th House of Teamwork. Energetic friends and colleagues inspire your creative and social impulses. However, pride could hold you back if you're unwilling to adapt your ways to get along better with others. Be patient if discussions go on longer than you'd like, because cooperation is a key to success.
Taurus (April 20 - May 20)
A professional breakthrough is possible with this innovative Aquarius Full Moon in your 10th House of Career. Favorable aspects from visionary Jupiter and energetic Mars open your mind to moneymaking ventures. Hard work and healthy on-the-job relationships are keys to cashing in on these opportunities. Looking toward the future instead of holding onto old ideas could be critical.
Gemini (May 21 - June 20)
Your busy brain could reach an even higher level of activity with this Full Moon in your 9th House of Higher Mind. You can broaden your intellectual frontiers with education and travel, or convincingly share your beliefs with others. Generous Jupiter is in your sign to inflate your creative and romantic ambitions, but a serious commitment is needed to turn bright ideas into lasting realities.
Cancer (June 21 - July 22)
This Full Moon in unconventional Aquarius lands in your 8th House of Deep Sharing, which can bring issues to light in personal and professional relationships. You may be dealing with a quirky individual whose desires and methods contrast with yours. But rather than sticking to your traditional ways, there's much more to be gained by experimenting with new and different values.
Leo (July 23 - Aug. 22)
This innovative Aquarius Full Moon in your 7th House of Partners brings your attention to relationships. You can attract unconventional individuals whose rules are very different than your own. Fortunately, you should be flexible enough to appreciate unconventional perspectives. In fact, keeping an open mind strengthens alliances, while acting too authoritatively can undermine trust.
Virgo (Aug. 23 - Sept. 22)
Brilliant ideas about your job can come with this inventive Aquarius Full Moon in your 6th House of Employment. Updating technical skills in your current field or finding inspiration to educate yourself in a different line of work are possible. Interest in an usual hobby is a way to stimulate your mind without the risks associated with taking your professional life in a radically new direction.
Libra (Sept. 23 - Oct. 22)
Romance and creativity soar with this dynamic Aquarius Full Moon in your 5th House of Self-Expression. This is a great time for you to shine by showing off your friendly personality and imaginative ideas. Follow-through is essential, though, as active Mars joins committed Saturn in your sign. Patience and discipline should come more easily now and support your
Scorpio (Oct. 23 - Nov. 21)
Making changes on the home front is the message of this liberating Aquarius Full Moon. It lands in your domestic 4th House of Home and Family to bring old issues to the surface. But instead of holding onto the past, you're able to finally see difficult memories in a new light. The sense of freedom that comes with this insight allows you make a fresh start within your household and even in your professional life.
Sagittarius (Nov. 22 - Dec. 21)
This brilliant Aquarius Full Moon illuminates your 3rd House of Information, making you a more convincing communicator and a better student of new ideas. Just remember to ask questions and keep an open mind instead of feeling like you have to say everything to make a positive impression. The conversations that will make a difference in your life include just as much listening as talking.
Capricorn (Dec. 22 - Jan. 19)
A radically different take on money and resources is a gift of this mind-opening Aquarius Moon in your 2nd House of Values. Rigid rules about what makes you worthwhile may start to break down as you awaken to alternative concepts about income and usefulness. Lighten up and let yourself feel like a beginner if that's what it takes to develop new abilities that will increase your worth.
Aquarius (Jan. 20 - Feb. 18)
This highly energetic Full Moon in your inventive sign can increase your self-awareness and spice up your appearance. Expansive Jupiter and active Mars support this lunation to broaden your mind and enhance your enthusiasm. New forms of physical activity can help your body keep up with your brain because progress comes when you bring your bright ideas down to Earth and make them real.
Pisces (Feb. 19 - March 20)
A new level of spiritual awareness is triggered by this brilliant Full Moon in your metaphysical 12th House of Escape. Insights into the meaning of your life can arise with unexpected clarity. Creativity is also driven by this illuminating event, especially due to the support it gets from your visionary ruling planet Jupiter. Help may also come from those who share your ideals and beliefs.
Start this new cycle with insight! Get a Life Cycle Tarot Reading from Tarot.com.