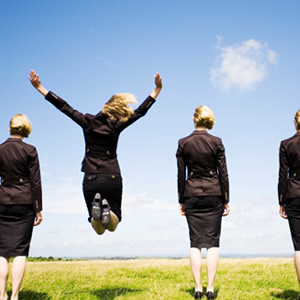 What were you planning to do today? Same old, same old? Drive the same route to work, have the same turkey-with-light-mayo sandwich for lunch, trod through the same daily pattern and heat up leftovers for dinner?
There's nothing wrong with that, of course. Routine is comfortable, and we love a good turkey sandwich. But sorry, the status quo is not quite filling today.
It's Wednesday, Jan. 12, and you're feeling restless as the feisty Aries Moon supports an impatient Mars-Uranus sextile. You need to change up your daily routine and inject it with some excitement -- if not you may feel you could explode with all that pent-up energy.
The upside to all this is that you'll feel bold and confident today, and more willing than usual to take risks and make things happen. If you've been silently admiring a romantic prospect from afar, today's a great day to make contact. Want a raise? Ask for it now. Or, if you've been waiting to hear about something -- a job interview or an answer from someone who's been putting you off -- today's the day to reach out and get answers.
It's also a great day to meet someone new -- not just because you're feeling bold, but because communication planet Mercury is quintile Saturn and boosting your ability to find unique ways to approach others.
You may find yourself especially drawn to the kind of offbeat and interesting personalities you think will make your life more exciting, so don't be surprised if you befriend some tattooed philosophy student you meet at a new coffee shop in a neighborhood far from your own.
Maybe you can offer to split a nice comfy turkey sandwich by way of introduction.
Read yesterday's Daily Buzz here.
If you like what you see on dailyhoroscope.com, please consider following us on Facebook and Twitter. We need your help to spread the word and fill the world with good Karma!