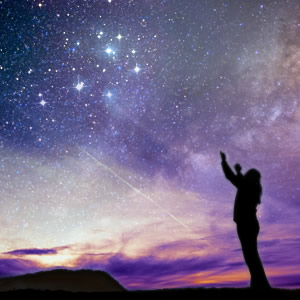 Have you been watching the media frenzy over Ted Williams this past week? If you've read the stories about the homeless man with the "golden radio voice" who lucked into a second chance at life thanks to a viral video on YouTube, it's pretty clear anything is possible.
It's Tuesday, Jan. 11, and that anything-is-possible theme is driven home today as the Moon cruises through action-oriented Aries and Mercury squares Jupiter in a way that has you making grandiose plans and then setting out to accomplish them -- no matter what or who gets in your way.
This far-reaching optimism is fantastic, as long as you don't overdo it. Reaching for the stars can lead to great accomplishments, but you might fail to notice that you're trampling over others while your gaze is fixed skyward. You don't want to be that person, do you?
If you can be mindful of others today and keep your self-righteousness in check you'll fare much better in terms of your personal Karma. Not to mention big plans and big talk are best when you follow through on them, and it's easier to follow through if you don't overreach or over-preach.
For example, as much as we're inspired by Ted Williams' good fortune at being discovered while homeless on the street and becoming an overnight sensation, we like it much better when he displays an attitude of gratitude about all the cash and job offers pouring in -- rather than when he goes on Oprah and asks her to give him his own show.
Yes, Ted, anything is possible. But let's not get so far ahead of ourselves that we bite off more Kraft Macaroni & Cheese than we can chew.
Read yesterday's Daily Buzz here.
If you like what you see on dailyhoroscope.com, please consider following us on Facebook and Twitter. We need your help to spread the word and fill the world with good Karma!