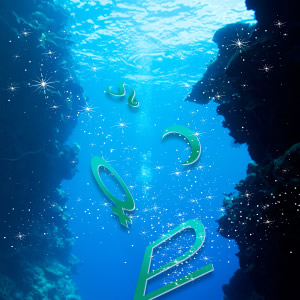 Are you ready to get back some of that love you've been pouring out? It could happen today, as our willingness to risk diving deep without emotional scuba gear finally turns up big relationship rewards.
It's Tuesday, April 12, and we're still caught up in both Mercury Retrograde and Pluto Retrograde, urging us to continue examining ourselves and questioning things we may want to change.
We may even feel ready to take some bold action now as Mars and several other key planets continue through energetic Aries... but don't! Do. Not. Make. Any. Bold. Moves. Now is not the time.
Now is the time, however, to talk and think and explore and express your feelings, because a heartfelt Leo Moon is amplifying the intensity of a magical quintile between romantic Venus and passionate Pluto Retrograde.
Sweet Venus is exalted in watery Pisces, and she's shining a much-welcome light into the depths that Pluto has been plummeting in recent days. This will lend a sweetness to the day and fill us with a greater sense of compassion, romanticism and spiritual awareness.
Just think: The more you give, the more you'll get back.
Read all the past Daily Buzz astrology advice articles here.
If you like what you see on dailyhoroscope.com, please consider following us on Facebook and Twitter. Daily Buzz is based on the astrology of Rick Levine and Jeff Jawer.