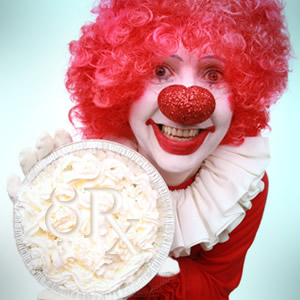 Something's going to fall from the sky today! Just kidding, it's not. Just kidding, it is. It's pie! Just kidding, it's not. Ok, it is. It's banana cream pie with loads of whipped cream and it's going to hit us right in the face. Why? It's April Fools' Day!
It's Friday, April 1, and we are preparing for the most extreme April Fools' Day trickery we've ever experienced -- no kidding.
In fact, we're calling it Super Fools' Day because this April Fool's Day falls while Mercury is Retrograde in impetuous Aries, and on a day when there are no other aspects to counteract the Trickster planet's powerful energy.
Not only will we experience the typical MRx computer and email mishaps, missed calls, people saying the wrong things at the wrong time and other communication fails, but April Fool's day jokes and pranks will be extremely out of hand – maybe even dangerous.
Only a handful of times a year will there be a day with no aspects, and for this to happen during a Mercury Retrograde period and on April Fool's Day is especially rare. Expect pranks to go awry, and astrologers are predicting that craziness and chaos will reign on this Super Fools' Day.
In other words… watch out! Just kidding.
!!!!! News Flash !!!!
This just in: Our sister site Tarot.com is reporting major mishaps! Mercury Retrograde kidnapped their Cosmic Reporter and turned their site into a video game! Save the Cosmic Reporter and defeat Mercury Retrogade to claim a Karma Coins reward in a special 8-bit adventure video game!
Read all the past Daily Buzz astrology advice articles here.
If you like what you see on dailyhoroscope.com, please consider following us on Facebook and Twitter. Daily Buzz is based on the astrology of Rick Levine and Jeff Jawer.