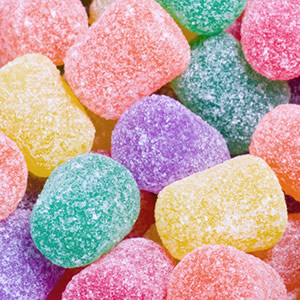 Hot on the sexy heels of Valentine's Day, it's Singles Awareness Day! We're pretty sure there's no Hallmark card for that, but it's still recognized as a day to get together with friends and… apparently eat gumdrops, as it's also National Gumdrop Day.
It's Tuesday, Feb. 15, and hopefully all the single shenanigans and gumdrop smacking won't overwhelm your sensitive feelings today. The Moon is still in Cancer, and you're feeling a bit emotionally withdrawn. But maybe it's just a V-day love hangover? It's possible you were disappointed yesterday and are carrying some hurt feelings into today, but try to remember withdrawing and hiding out in your cute little crab shell is not going to protect you from being hurt. You'll just feel lonely.
Instead, do your best to tap into communication planet Mercury's semisquare to Jupiter: Put yourself in an optimistic frame of mind (use your gumdrops if you have to) and talk it through slowly but surely (the gumdrops will help with that, too, cause your lips will stick together).
If you're feeling confused about love and a little untrusting, listen to your gut but don't over-react. Love planet Venus is making a semisquare to deceptive Neptune, but that doesn't mean someone is lying -- you may be deceiving yourself by expecting too much from your partner.
Calm communication will smooth things over, and these feelings most likely will pass. Just proceed with caution and keep your eyes wide open in life and love today. Especially while your mouth is gumdrop-glued shut.
Read all the past Daily Buzz astrology advice articles here.
If you like what you see on dailyhoroscope.com, please consider following us on Facebook and Twitter. Daily Buzz is based on the astrology of Rick Levine and Jeff Jawer.