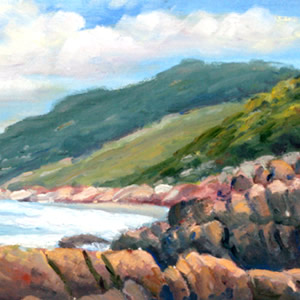 Here's to calm cosmic weather! The sky is filled with all those fluffy white clouds that cheeky '70s painter Bob Ross made famous, and there are no significant astrological aspects to speak of. Joy!
It's Friday, April 8, and today's blank canvas stands ready to paint with joy, much as Bob Ross and his cheeky 'fro gave us "The Joy of Painting" on TV way back when. Well, today we can say happy litte trees are great, Bob, but we've got happy little planets!
Many of today's happy planets are still energizing us in go-getter Aries, and the active Gemini Moon has turned from jittery to fun as it harmonizes with Saturn, Jupiter, the Sun and Mercury.
This means we'll be mentally stimulated and eager to get active, but it won't feel like an overwhelming amount of pressure as it has in recent days.
Do something fun with this energy -- paint your own picture, or get together with friends and talk about exciting plans for the future. The days is yours, happy little trees and all.
Read all the past Daily Buzz astrology advice articles here.
If you like what you see on dailyhoroscope.com, please consider following us on Facebook and Twitter. Daily Buzz is based on the astrology of Rick Levine and Jeff Jawer.