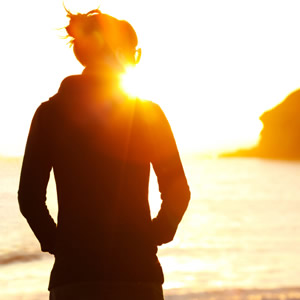 Here we are, standing on the brink of our next big adventure. What's it going to be? We have no idea. And that's kind of scary. But if we face the world with an open heart and a willingness to go smiling forward into the unknown, everything will work out just as it should.
It's Monday, April 11, and today's sensitive Cancer Moon is conflicting three planets in impulsive Aries, making us feel a bit insecure as we stare into the future.
Adding to that unsettled feeling is Aries' key planet, Mars, giving a sense of urgency to all of our worries as it squares Pluto. But you know what? Whatever you're troubled about is not really all that urgent!
Try to keep in mind that both Mercury and Pluto are retrograde, and the force combined may have us thinking too much and too deep about old hurts and hang-ups. Some reflection is a good thing, of course, but climb out of your brain if it starts to get too heavy and you begin thinking about making life-altering decisions. Now's not the right time.
We also might find ourselves talking too much out loud about our problems today thanks to a Mercury-Jupiter conjunction, and if you find yourself doing that... don't! It will only make your problems seems worse.
The best way to handle the adventure that is today is to keep an open mind and try be flexible about whatever comes up.
Read all the past Daily Buzz astrology advice articles here.
If you like what you see on dailyhoroscope.com, please consider following us on Facebook and Twitter. Daily Buzz is based on the astrology of Rick Levine and Jeff Jawer.