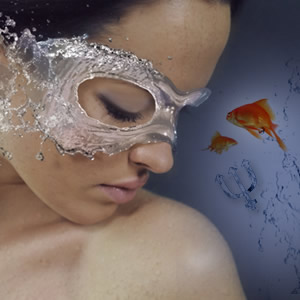 Whoa. The last time we felt like this was 1862. And the next time we'll feel like this is 2176. Seriously. That's because Neptune is making a splash in watery Pisces today, turning the collective consciousness into an idealistic dreamworld as it hasn't done since 1847-1862.
It's Monday, April 4, and we should all be feeling pretty lucky that we're around to experience the next four months of Neptune in Pisces (by the way, Neptune makes a brief retrograde in Aquarius, but then it will be back to spend 14 years in Pisces from February 3, 2012 to March 30, 2025.)
Why is this such a big freaking deal? Because Neptune is an outer planet, and when outer planets change signs the effects have a worldwide impact. We're talking total global spiritual awakening!
Read more about this historic Neptune in Pisces transit from our expert astrologer Kelli Fox, who blogs about how it will shape the next months and years -- but for now, let's get back to how it will shape today.
With Neptune in Pisces, we'll be feeling our own spiritual awakening today, and we'll be much more empathetic toward others. If you're feeling extra emotional or caught up in your own thoughts, try taking some of those fantasies for a walk on the beach so you can feel and breathe in the expansiveness of the oceans Neptune rules.
If you can't make a trip to the seashore, try writing about it or painting a seascape instead. Imaginations are on high today, and escapism is likely as the Sun makes an anxious semi-square to Neptune. This transit comes with a risk of escaping into drugs or alcohol, and we'd much rather you escape into art.
Whatever waterworld you find yourself swimming in today, your feet will be firmly back on the ground by 4:45 p.m. PDT, when the Moon moves into earthy Taurus. And while your practical side will re-emerge, the good news is your spiritual awakening will continue on through the coming months and years.
Whoa.
Read all the past Daily Buzz astrology advice articles here.
If you like what you see on dailyhoroscope.com, please consider following us on Facebook and Twitter. Daily Buzz is based on the astrology of Rick Levine and Jeff Jawer.