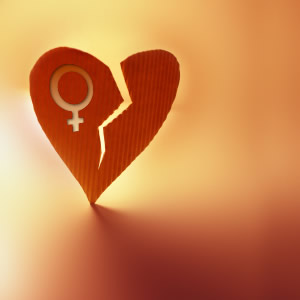 Listen up, all you brokenhearted and/or lonesome love doves: Stop pouting and make a plan of action because today is one of the best days to win back lost love or repair relationships. Did you hear that? Don't just sit there. We said TODAY. Snap to it.
It's Thursday, March 31 and love planet Venus is making a conjunction to the dreamy Pisces Moon that puts us in an amorous mood, opens the door to intimacy and makes us more attractive to others. But that's just the half of it.
Take note this sweet Moon-Venus conjunction is also happening during Mercury Retrograde, and that's where the real love healing power lies.
See, Mercury Retrograde is always a good time to revisit past relationships and rethink choices we've made, so if you (or your lost love) are doing this on a day like today when Venus is also doing duty as our love slave, chances are you'll make much progress in healing your broken heart or getting your ex back.
So how exactly do we put this plan in action? Reach out. If you've been wanting to contact a former flame but something held you back, do it today. Or if you've been avoiding that coffee shop or bar you know your ex also frequents, take a chance and drop by today. You're more likely to get a receptive response if you have a run-in.
And if you're single, it's true Mercury Retrograde is not the best time to start a new relationship, but with so much cosmic love in the air you won't really care. Just find a fun social setting to mix and mingle and flirt while everyone is in such a good mood.
Let Venus' healing powers begin!
Read all the past Daily Buzz astrology advice articles here.
If you like what you see on dailyhoroscope.com, please consider following us on Facebook and Twitter. Daily Buzz is based on the astrology of Rick Levine and Jeff Jawer.