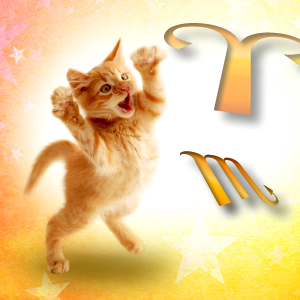 Sorry to break it to you kitties, but your emotions may feel like a battered cat toy today as you're swatted around by pushy Aries energy and Scorpio's inward pull.
It's Tuesday, March 22, and really there's no good kitty or bad kitty. It's simply a case of an intense Scorpio Moon now pouncing on all that powerful Aries energy we've been experiencing the past few days.
While all that Aries energy is still there, pushing us to express ourselves outwardly and move forward, Scorpio wants us to pull back in so we can just stop for a minute and think to ourselves… but it's not that easy. Hissssssssssssss….
This is why we'll feel some extreme emotions today. It's a conflict between needing to express ourselves and wanting to keep it all inside, and ultimately it's a fair catfight. Which kitty are we laying odds on? Fiesty Aries or Scrappy Scorpio? We're not quite sure, but at least it will be as entertaining as a basket full of baby kittens wrestling.
Most likely, the day will come down to us taking some time to examine the things that are most important to us, but only speaking out about the most vital issues. That's a good thing -- progress will be made, even if we do feel a little chewed up.
Read all the past Daily Buzz astrology advice articles here.
If you like what you see on dailyhoroscope.com, please consider following us on Facebook and Twitter. Daily Buzz is based on the astrology of Rick Levine and Jeff Jawer.