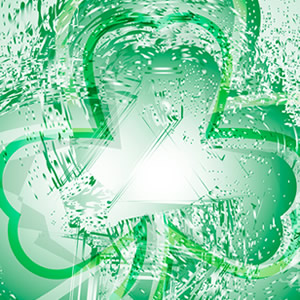 Oh Blarney, what are we supposed to do with a practical Virgo Moon on St. Patrick's Day? What's practical about a holiday associated with drinking, loosey goosey leprechauns and trying not to get pinched? Let's look further into this.
It's Thursday, March 17, and we're wearing green to honor St. Patrick, patron saint of Ireland (and also so that creepy fella at the corner store won't pinch us when we're picking up a pint of Guinness).
As the luck o' the Irish and the rest of us would have it, St. Patrick's Day has evolved over the years from a strictly religious holiday to a much more broad celebration of Irish culture in general. So now we can fully embrace the fanciful modern traditions of feasting on corned beef and cabbage, doing jigs, hunting for shamrocks and taking in spectacles like the entire Chicago River being dyed bright green.
It's really quite an imaginative holiday, you see? So then, what of this serious Virgo Moon? It's going to get pinched, that's what.
The Virgo Moon will add some diligence to the day, that's for sure. We'll be at our analytical best, which may be just the thing we need to get through the work day with fewer distractions. Thankfully pinching is not allowed in most offices, but we're even safer with Virgo keeping watch.
But here's where it gets interesting: As we move closer to Saturday's Full Moon in Virgo (also known as the Extreme Super Moon), some of that serious Virgo energy will dissipate.
On top of that, clever Mercury will make a semi-square to Neptune that effectively gives the Virgo Moon a nice big pinch and puts some of the "rock" back in shamrock.
This should make way for some fun fantasies and St. Patrick's Day holiday surprises, and it will up the ante on our imaginations… perhaps enough that we'll see a real leprechaun?
Read all the past Daily Buzz astrology advice articles here.
If you like what you see on dailyhoroscope.com, please consider following us on Facebook and Twitter. Daily Buzz is based on the astrology of Rick Levine and Jeff Jawer.