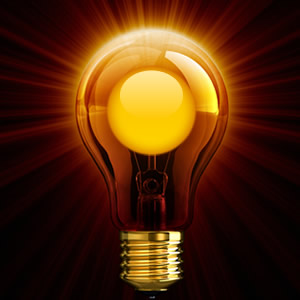 Here's a bright idea: It's officially spring, so let's power into the first full day of the Astrological New Year with an energetic attitude and an open mind -- we're going to need it as we adapt to all the coming change.
It's Monday, March 21, and now that the Sun has joined Uranus and Jupiter in impulsive Aries, we're officially in an "expect the unexpected" zone. If you watched our Planet Pulse Special Edition Video about Spring Equinox, then you know the real shift toward the future starts NOW.
Today, you'll feel like someone suddenly turned on the lights as an Aries Sun-Uranus conjunction awakens the need for change and excitement. And not only may there be external surprises, but you may surprise yourself, too!
If you can embrace the Uranus-inspired drive to try new things and express your creative urges, you'll like the way the day turns out. You might decide to break away from typical routines, which can be scary -- but there's really nothing to fear. Making mistakes is part of the learning process, and you can always adjust and readjust as you go.
Whether you decide to quit your job and join the Peace Corps, end a relationship or take up the tuba, today is only the beginning of an exciting new cycle. We can't wait to see what's going to happen -- what are you going to do?
Read all the past Daily Buzz astrology advice articles here.
If you like what you see on dailyhoroscope.com, please consider following us on Facebook and Twitter. Daily Buzz is based on the astrology of Rick Levine and Jeff Jawer.