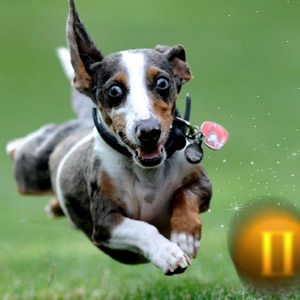 Gemini is known for its short attention span, and today we'll find out why firsthand as the jittery Gemini Moon has us bouncing from one thing to another faster than a spastic Shih-Tzu chasing a superball.
It's Thursday, April 7 and we're full of energy -- so much energy that's it's easy to jump from one thing to the next in a flash, though we might feel a bit distracted through it all.
The upside is that we'll probably get a lot of little things done today, and we'll have fun doing it. We'll enjoy a variety of interesting (if not deep) conversations with many people, and by day's end we should feel like we really connected with many folks on many different levels.
One transit to watch, however, is pleasure-loving Venus' quincunx to stern Saturn, which could turn some of today's natural Gemini jitters into downright anxiety if we don't manage it well.
If you start feeling a bit weird -- like, you might want to be social but your inhibitions and worries are getting the best of you and holding you back, try to focus on living in the moment and on the quickly changing tasks at hand. Living in the moment always helps, doesn't it? Even if that is slightly easier said than done.
If you need help living in the moment to calm your anxiety today, reach out and do something nice for a friend or neighbor. Doing a favor for someone else is the quickest way to calm the Gemini jitters -- maybe even faster than that puppy with the superball.
Read all the past Daily Buzz astrology advice articles here.
If you like what you see on dailyhoroscope.com, please consider following us on Facebook and Twitter. Daily Buzz is based on the astrology of Rick Levine and Jeff Jawer.