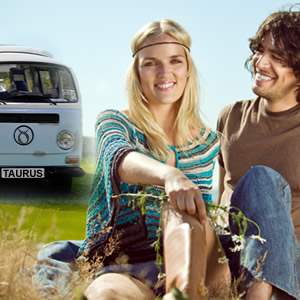 Taurus, you hippie. We always knew you were earthy, but today you're flower-powering a free-lovin' Taurus Moon that's blaring some of that feel-good early '70s folk rock: "If you can't be with the one you love, honey, love the one you're with."
It's Tuesday, April 5, and don't get us wrong -- we're not suggesting you listen to that soundtrack while you sleep around. Ha. No, today's Taurus Moon is simply a reminder of being happy with what you have instead of focused on what you don't have.
This transit encourages us to want things that are already in reach instead of longing and grasping for elusive dreams, so it's actually much easier to find satisfaction today. What's not to love freely about that?
There is a pleasure principle involved with this transit, too, as the same earthy Taurus Moon makes a suggestive sextile to love planet Venus. Feelings of love and friendship are stronger with this transit -- not just romantic relationships, but love between friends and family members, too.
It's basically a great day to go on dates, spend quality time with your sweetie, or invite friends over to hang out and lounge around... on beanbag chairs in bellbottoms, if you insist.
Read all the past Daily Buzz astrology advice articles here.
If you like what you see on dailyhoroscope.com, please consider following us on Facebook and Twitter. Daily Buzz is based on the astrology of Rick Levine and Jeff Jawer.