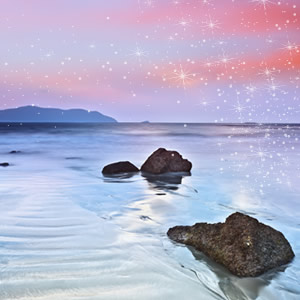 Grab a fruity drink, call a friend and chill out. We're lounging about on a small island of cosmic calm between yesterday's Jupiter-Saturn opposition and tomorrow's Mercury Retrograde mischief. Enjoy it while it lasts, and bring your peeps with you.
It's Tuesday, March 29, and things are positively beachy. The pressure from yesterday's Jupiter-Saturn opposition has subsided, so we're not feeling quite so much pressure to make impossible decisions. And Mercury won't go retrograde until 1:48 p.m. (PST) tomorrow, so all there is to do now is back up your hard drive and head out to play.
With four planets in energetic Aries and the eccentric Aquarius Moon making a sextile to Jupiter, we're feeling especially friendly and spontaneous today.
Some of the serious gravity of recent days has lightened up so we're feeling more balanced, and all that feel-good energy will probably inspire you to call a few friends and get together.
It's a perfect day for group outings, like going bowling, hitting the beach or hosting a dinner party. No matter what you do, just be sure to enjoy this day with your nearest and dearest, and maybe even make a new friend or two while you're at it.
Mercury Retrograde will wash up on the shores of your island oasis tomorrow, so make the most of today!
Read all the past Daily Buzz astrology advice articles here.
If you like what you see on dailyhoroscope.com, please consider following us on Facebook and Twitter. Daily Buzz is based on the astrology of Rick Levine and Jeff Jawer.