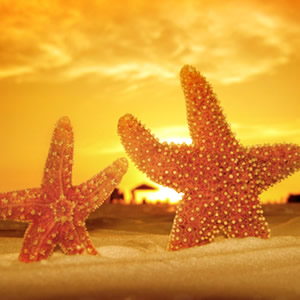 "There's a dark and a troubled side of life, but there's a bright and a sunny side, too." So sings June Carter Cash brightly in our soundtrack for the day, as we meet challenges admirably with the aid of an optimistic Sun-Jupiter alignment in Aries.
It's Wednesday, April 6 and the stubborn Taurus Moon is making some harsh aspects with Uranus, Mars and Pluto that will put some obstacles in our path today.
But with the two largest objects in our solar system -- the Sun and Jupiter -- aligned in energetic Aries, we're able to see past any problems and look on the bright side.
Think of it as a cosmic attitude adjustment that will make us feel generous and confident in spite of any troubles, which may in turn chase the troubles straight away. If you feel lucky when you overcome today's obstacles, use it as a good lesson about what you can achieve when you really do think positive!
Normally we'd suggest such an aspect would be a great time to start a new project or relationship, but with Mercury in Retrograde it's better to work on existing projects today and hum along happily as you go.
Read all the past Daily Buzz astrology advice articles here.
If you like what you see on dailyhoroscope.com, please consider following us on Facebook and Twitter. Daily Buzz is based on the astrology of Rick Levine and Jeff Jawer.