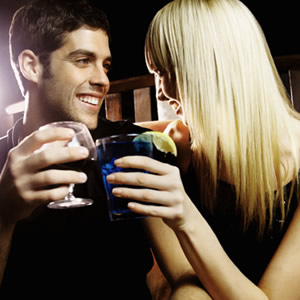 Put on your party pants, people! You know, the ones you bought at H&M last weekend to replace the exact same pair you lost at that hot tub party in 1987. Life and love move into adventurous territory this weekend, and you'll likely have so many invitations and opportunities to pursue that your pretty little head will be sparkling and spinning like a worn-out disco ball.
On Friday, Venus the va-va-voom planet of love will zip-zap into adventurous Sagittarius to stay through Feb. 4. Whether single or in a relationship, you'll feel more like meeting new people and doing new things than you'll feel like staying home and spooning. This is great news if you're looking to meet someone special, but it also promises fun times for couples, too.
Also on Friday, the Sun makes a square to Saturn that will throw a few obstacles in front of us, but we'll hardly notice -- Venus has our back, and the optimistic Aquarius Moon will keep us dancing through the dark spots.
On Saturday, we'll awake confused – is it a hangover? Or is it because the Moon just moved into Pisces? Probably both. Either way, Saturday might be a head-trip. Sagittarius energy will have you seeking higher meaning, and dreamy Pisces will have you contemplating the more spiritual sides of life. Maybe you can make a day of spiritual adventures online!
It's a great day to Google some of the weirdness that's been happening in the world lately – um, what is up with the birds and fish?! Or read up on how to interpret your dreams! It's not a day for making judgements or even figuring things out, but it's perfect for exploring life's mysteries.
On Sunday, you'll struggle a little getting back to the serious side of things, but the Moon and Venus form irritating aspects to sobering Saturn that make it necessary. You may be feeling a bit uncertain about things this day -- not sure what you're capable of or what you should do, and you may have some trouble relating to others.
It's possible you'll feel like you have a duty to yourself above all others on Sunday, and if so you should try to honor that. Set some boundaries and do what you need to do to make some time for yourself. It doesn't matter whether you take a long bubble bath or go for a winter walk, as long as you get some thinking space. And while you're at it, rethink those party pants -- yick.
Read yesterday's Daily Buzz here.
If you like what you see on dailyhoroscope.com, please consider following us on Facebook and Twitter. We need your help to spread the word and fill the world with good Karma!