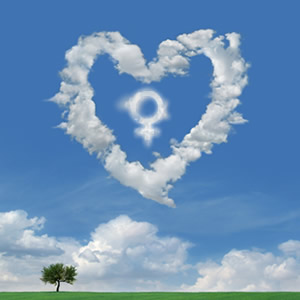 Was your weekend stressful? We hope not, but it is difficult to stay upbeat when faced with startling global events that cause such human suffering. Not to mention the Super Moon and Solar Flares and all manner of wacky out-there happenings. Fortunately, loving Venus is here to give us a big cosmic hug just when we need it most.
It's Monday, March 14 and we're feeling sensitive beneath the Cancer Moon. Our emotions may still be reeling from events of the past few days, which could leave us feeling frustrated and overwhelmed as we're forced to head back to work and/or our everyday routines.
The good news is that Venus will form a harmonious trine to Saturn today, which will calm us down with patience and good sense until we feel better -- kind of like a nice big cosmic hug.
You might feel so much better so fast, in fact, that you hop right up and do something silly. We're not sure what that could be, but with Venus also making a semi-square to Uranus, you might be in the mood for some immediate gratification to cheer yourself up and erase the mood of the past few days.
Try not to put yourself in any situations that would upset those close to you right now, because they're also under the influence of the sensitive Cancer Moon and we don't want any hurt feelings. Even if Venus does have an unlimited supply of cosmic hugs to dole out.
Read all the past Daily Buzz astrology advice articles here.
If you like what you see on dailyhoroscope.com, please consider following us on Facebook and Twitter. Daily Buzz is based on the astrology of Rick Levine and Jeff Jawer.