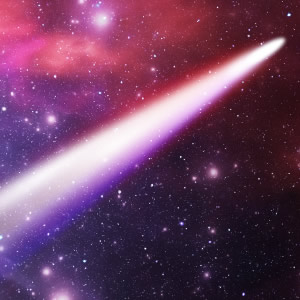 What a beautiful day for stepping outside! And no, we're not talking about the weather. We're talking about the cosmic weather, which is brimming with unexpected opportunities that will blow our way if we just get out and about.
It's Tuesday, Feb. 8, and the enterprising Aries Moon is sextile both Mars and the Sun. This puts our energy levels in high gear, and gives us the desire and courage to take the initiative on new plans, projects and ideas.
We'll likely be very vocal about our opinions today, and will not back down if anyone disagrees. This is fine as long as you're up to taking on a leadership role for the day, but if not be careful of stating your opinions too forcefully. Others have important opinions, too!
Relations with others are spot-on today -- especially with the opposite sex, and you're only at a slight risk of putting anyone off. Why? Because… guess what! Chiron moves into Pisces today, a compassionate sign where it will stay until 2018.
Known as "the wounded healer," Chiron is not a planet -- it's a unique comet that has become a great tool for astrologers, and it represents our efforts to heal our deepest wounds and also to help others do the same.
While in Aquarius, Chiron's focus on where and how we heal was more impersonal and distant, but now that Chiron is moving into Pisces we can expect to feel more compassion, spread more kindness and forgiveness -- and even spark healing through unconditional love.
As we prep to make a fresh start with today's active Aries Moon and embark on a nine year cycle of greater compassion and forgiveness, it's kind of a perfect day to let bygones be bygones and move forward. Can you do it?
Read all the past Daily Buzz astrology advice articles here.
If you like what you see on dailyhoroscope.com, please consider following us on Facebook and Twitter. Daily Buzz is based on the astrology of Rick Levine and Jeff Jawer