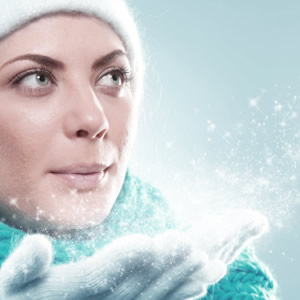 Ho, ho, ho, here we go. The Moon is in lively Leo as we head into the long holiday weekend, but we might be too overwhelmed with family obligations and running last-minute errands to enjoy feeling playful. All we can say isthank goodness for Burl Ives.
On Friday (a.k.a. Christmas Eve) the Leo Moon's liveliness is taken down a notch when the Sun makes a conjunction with the Lunar North Node in Capricorn (and we sincerely hope no flying reindeer are injured in this process). This aspect will awake our inner control freak, so we'll spend most of Friday making sure we're keeping up with social duties and responsibilities. A word to the wise? Cut yourself some slack, because you can't possibly do it all. Delegate!
We'll finally lighten up as evening falls and the Moon trines Mercury, which will put us in a social and expressive mood while we wait for Santa. We might start feeling so perky, in fact, that we'll invite some friends over to chatter while we wait. And if that jolly old soul shows up, we'll probably offer him a shot of Peppermint Schnapps instead of milk. We'll accept the blame if Santa gets a D.U.I.
On Saturday (a.k.a. Christmas), the Moon shifts into practical Virgo and leaves us needing to be needed. If you're not ripping open packages with family or can finish doing so early, it's a great day for volunteering. Dish up holiday dinner in a shelter, pay a visit to a local retirement home, or any find kind of charity work that will lend more meaning to your holiday. Acts of kindness are encouraged every Christmas, of course, but the cosmos are begging even harder this year.
Our inner light will take a bit of a post-holiday hit on Sunday, when the Sun-Pluto conjunction has us wrestling with our own psyches and becoming more aware of hidden issues. We'll want to make changes and fix things -- whether it's a broken toaster or a broken relationship.
It's a good idea to find a peaceful, safe setting to enjoy this intense Sunday, so as to ride out the highs and lows and avoid any unfortunate encounters. The potential for crime is highlighted with this aspect, so why risk wandering down any dark alleys when you could just cozy up in your new Sherpa Snuggie (seriously?) watching "Elf" for the 20th time? It just never gets un-funny.
All that corny down-time will sound even better once you hear how annoying Monday is going to be. Those of us heading back to work with an impulsive Mars-Uranus quintile and a difficult Sun-Moon square will want to prepare for tense situations and potential conflicts -- especially if you are too emotional in your dealings.
If you haven't been feeling overly emotional lately, you may skate through Monday just fine. But if your world has been a bit rocky recently, anger could erupt in a meeting with a boss or you'll trigger a domestic quarrel if you're home. It's a good idea to do a little planning ahead for Monday, if only just putting some thought into what you might say or do in certain situations. You'll have plenty of time to think about it if you follow our Snuggie Sunday advice.
Happy holidays!
Read yesterday's Daily Buzz here.
If you like what you see on dailyhoroscope.com, please consider following us on Facebook and Twitter. We need your help to spread the word and fill the world with good Karma!