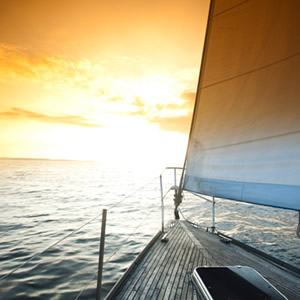 What's that noise? Why, it's the wind rushing through our sails! Can you feel it, too? The whole weekend ahead is blowing big gusts of action, fun, excitement and anticipation our way.
The Gemini Moon glides in to stay from Friday, Feb. 11 to Sunday, Feb. 13, so we'll enjoy an entire weekend of lively conversations and fun, breezy outings -- yacht or not.
On Friday, as the Moon shifts from cozy Taurus to crazy Gemini (we mean that in a good way) at 2:30 p.m. (PST), your whole system will start to speed up. This is the day you'll do all those things you only thought about doing while in couch potato mode Thursday.
Head to a party or out with a friend on Friday night, when you'll feel outgoing and an imaginative Mercury-Jupiter septile will give your conversation skills a dazzling boost. You'll be able to strike up casual conversations about intellectual topics (or deep things that interest you, like, ahem, astrology) without scaring anyone off!
On Saturday, you'll be struck by all kinds of lightning-bright ideas as Mercuy semi-squares Uranus, and you'll have the energy to turn those ideas into plans. The brainy Gemini Moon will cruise toward a harmonious trine with Mercury in the evening, and you may start feeling sentimental. If so, either get out and connect with friends and family, or write a loving letter to a friend while you're feelin' it.
Sunday is smooooooother than Christopher Cross sailing his yacht through 1979, as the breezy Gemini Moon forms a superconductive Grand Trine with five planets in the intellectual Air signs of Aquarius and Libra.
Your ship might hit some rough waters briefly on Sunday evening, when the Moon squares erratic Uranus and sparks your rebellious streak.You may feel like you need to be free to ride like the wind. But there's nothing wrong with that. You know, whatever floats your boat.
Read all the past Daily Buzz astrology advice articles here.
If you like what you see on dailyhoroscope.com, please consider following us on Facebook and Twitter. Daily Buzz is based on the astrology of Rick Levine and Jeff Jawer.