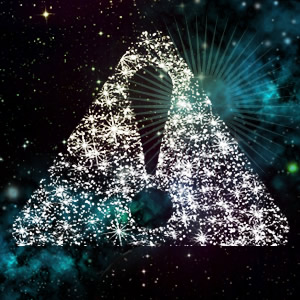 You weren't planning to slack off this weekend, were you? Because we're still in "expect the unexpected" mode and some edgy energy from the cosmos has other plans for you. Stay alert.
The weekend of Saturday, March 12 and Sunday, March 13 is likely to be action packed and full of surprises, though hopefully nothing as devastating as the earthquake in Japan.
Our hearts go out to everyone dealing with the aftermath of the earthquake and tsunami waves in Japan, Hawaii and the U.S. West Coast. And we don't want to scare anyone, but we do want to ask you all to prepare yourself to face more shocking events and big changes this weekend, this month, this year and over the next seven years that Uranus is in Aries.
If you have time to read our Expert Astrologer Kelli Fox's blog about Uranus in Aries, it's fascinating -- it details all the major life-changing events that took place the last time Uranus was in Aries from 1927-1935, and it's heavy stuff. Seriously -- there was an 8.6 earthquake in China, the discovery of Pinicillin and Adolf Hitler became Führer of Germany during this time. And that's just to name a few.
So we're preparing ourselves to see a similar trend of huge global, social and political change, and we plan on staying alert -- starting right now!
We recommend you start your weekend reading Kelli Fox's blog above, and then dig into Master Astrolger Rick Levine's Shake, Rattle & Roll blog about how to deal most effectively with all the major upcoming global events, and still help make the world a better place.
You can start with that on Saturday by doing your best to look at things logically and not let your emotions get the best of you. The Gemini Moon makes a square to the Sun that makes us irritable if things aren't going right, but that energy can be transformed into something positive if you focus instead on helping a friend or neighbor, or tackling little problems in your life so they won't keep weighing you down.
Sunday is also a bit stressful as we feel the full effects of Uranus, Mercury and Jupiter in urgent Aries. You'll be wrestling with some impulsive urges, as well as a Mercury-Pluto square that warns against forcing your opinion on others – and preparing for others to do the same to you!
But the Moon also shifts Sunday from restless Gemini to passive Cancer, lending a bit of hesitancy toward otherwise rash behavior. That's a good thing, frankly. With all this change in the air, it's important to behave with a bit of caution -- and stay optimistic. Don't worry, we're here to help you with that.
Read all the past Daily Buzz astrology advice articles here.
If you like what you see on dailyhoroscope.com, please consider following us on Facebook and Twitter. Daily Buzz is based on the astrology of Rick Levine and Jeff Jawer.