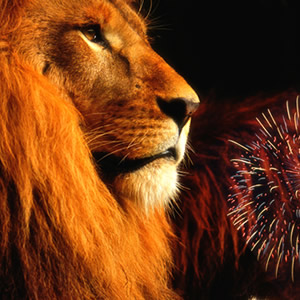 BIG BAM BOOM!! That's not just an '80s Hall & Oates record, friends. It's also the cosmic soundtrack of the day as emotional fireworks explode beneath a Leo Moon that's more dramatic than John Oates' mustache. (Before he shaved it off, that is.)
It's Tuesday, March 15, and while the day starts out matching the slow pace of the Cancer Moon's crab crawl, things suddenly explode into action when the Moon moves into Leo at 12:32 p.m. (PST) and makes a trine to electric Uranus.
No sooner does this happen and we're struck by sudden sparks of creativity and emotional excitability. We may be moved to make sudden changes in our lives (you know, like when John Oates shaved off his 'stache) or switch up our environments. Or we could be hit with a huge surprise that will take our day in an entirely different direction than we were expecting. But we'll probably like it.
That's because instead of causing confusion like such sudden change often might (and like the way we were confused when John Oates suddenly shaved off that glorious mustache), in today's case Mercury makes a conjunction to Jupiter that will enable us to see the big picture and plan accordingly.
What we really need to keep in mind today is that the small details are just as important as the big picture, because we don't want to become sloppy in our excitability. It's easy to push beyond sensible limits when enthusiasm is as boundless as it is today, and you might just wind up taking a good idea too far. You know, like when Oates shaved off his 'stache and now he's barely recognizable. BAM!
Read all the past Daily Buzz astrology advice articles here.
If you like what you see on dailyhoroscope.com, please consider following us on Facebook and Twitter. Daily Buzz is based on the astrology of Rick Levine and Jeff Jawer.